Pelatihan Peluang Usaha Kuliner di Masa Pandemi Covid-19
Evtaleny R. Mauboy

Universitas Nusa Cendana

Don E. D. G. Pollo

Universitas Nusa Cendana

Samy Y. Doo

Universitas Nusa Cendana

Hendrik Djahi

Universitas Nusa Cendana

Almido Ginting

Universitas Nusa Cendana
Keywords:
kuliner, cake, pandemi, covid19
Abstract
Abstrak
Di masa pandemi covid-19 sekarang ini, sebagian besar masyarakat kehilangan mata pencaharian sehingga pemasukan semakin berkurang karena ada berbagai macam kendala dan pembatasan aktifitas. Berbagai macam peluang dan usaha untuk meningkatkan pendapatan di masa sekarang ini sangat penting. Bisnis online semakin meningkat dan oleh karena itu peluang usaha pembuatan cake, misalnya brownies dan kue ulang tahun dapat menjadi salah satu peluang usaha di bidang kuliner yang dapat meningkatkan pendapatan, terutama di masa pandemi seperti saat ini. Dengan meningkatnya permintaan akan kuliner berupa cake, brownies dan kue ulang tahun maka pelatihan ini dilaksanakan sehingga mitra dapat memiliki pengetahuan secara baik tentang bagaimana pembuatan cake, brownies dan kue ulang tahun yang sederhana dan biaya yang ekonomis, namun memiliki rasa yang lezat, kemudian dengan teknologi pengemasan yang menarik agar berdaya jual tinggi. Metode pelatihan dilaksanakan dengan langsung mempraktekan pembuatan kuliner yang disiapkan, dilanjutkan dengan pengenalan website dan cara mempromosikan hasil secara online.
Kata kunci: kuliner, cake, pandemi, covid-19.
Abstract  
In this Covid-19 pandemic, most of the people around the world has suffered from the lost of job and the lack of income because of the many challenges and activity restrictions. Various kinds of opportunities and efforts to increase income today are very important. Online business is increasing and therefore cake making business opportunities, such as brownies and birthday cakes can be one of the business opportunities in the culinary field that can increase income, especially during a pandemic like today. With the increasing demand for culinary in the form of cakes, brownies and birthday cakes, this training is carried out so that participants can have good knowledge about how to make cakes, brownies and birthday cakes that are simple and economical, but have a delicious taste, then with technology of packaging for high selling power. The training method is carried out by directly practicing the culinary preparations that are prepared, followed by an introduction to the website and how to promote the culinary online.
Keywords: culinary, cake, pandemic, covid-19
Downloads
Download data is not yet available.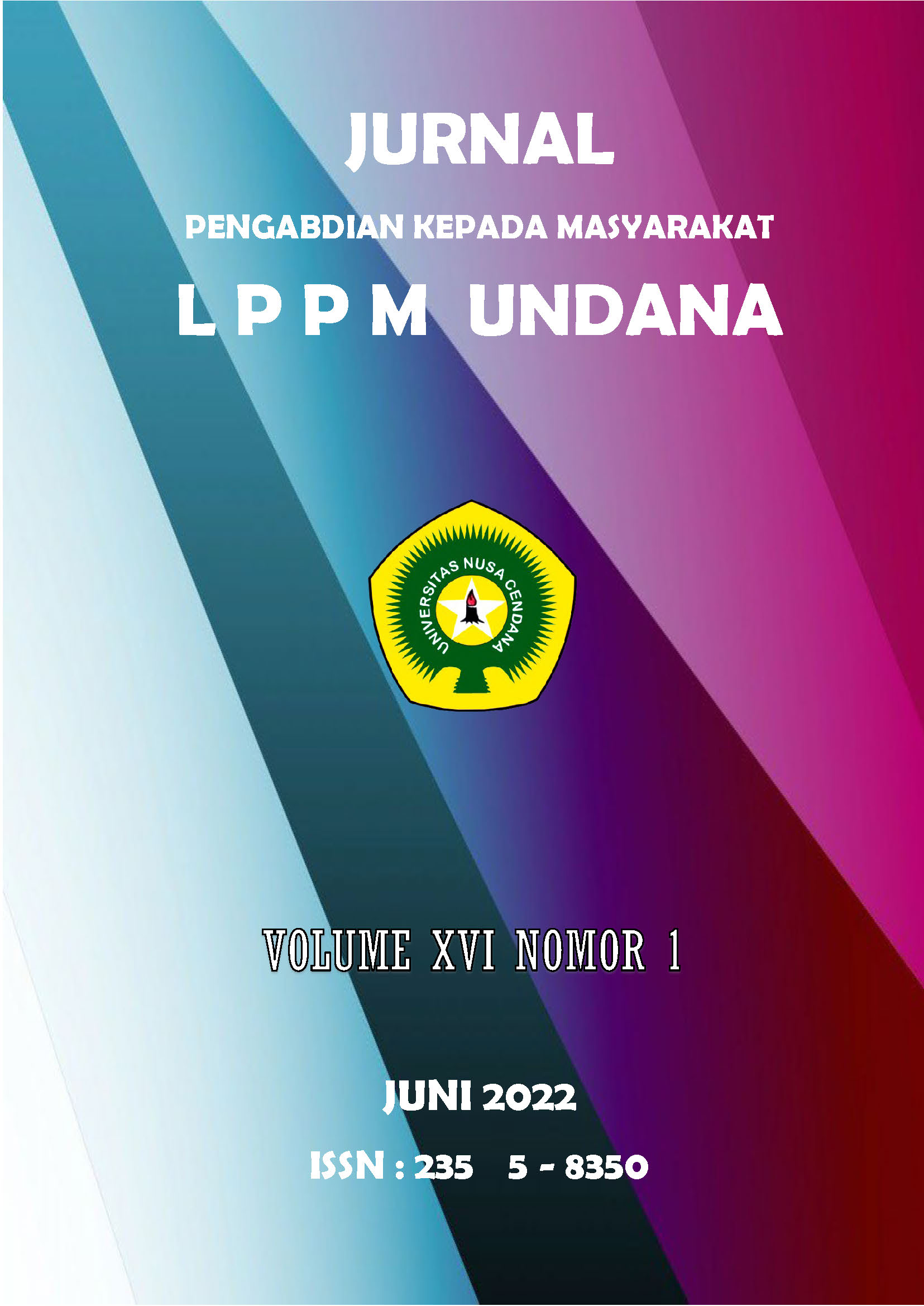 How to Cite
Mauboy, E., Pollo, D., Doo, S., Djahi, H., & Ginting, A. (2022). Pelatihan Peluang Usaha Kuliner di Masa Pandemi Covid-19. Jurnal Pengabdian Kepada Masyarakat Undana, 16(1), 10-13. Retrieved from https://ejurnal.undana.ac.id/index.php/jlppm/article/view/8075