IDENTIFIKASI POLA DISTRIBUSI STRESS COLOUMB PADA GEMPABUMI 2 AGUSTUS 2019 DI TUGU HILIR, INDONESIA
Umbu Harti Mala

Universitas Pattimura

Juliany Ningsih Mohamad

Nusa Cendana University

Bernandus Bernandus

Nusa Cendana University

Valentinus G. V. Putra

Nusa Cendana University
Abstract
Abstrak
Penelitian ini bertujuan untuk mengidentifikasi pola distribusi perubahan stress coulomb yang dapat digunakan untuk melihat gempabumi susulan yang terjadi dalam jarak dan dalam rentang waktu yang dekat. Penelitian ini menggunakan data gempabumi yang terjadi pada 2 agustus 2019 dengan Mw 6,9 di Tugu Hilir, Indonesia, pada koordinat 104,825 BT dan 7,267 LS dengan kedalaman 52,8 km (USGS) memiliki mekanisme fokus (Strike, dip, rake) adalah (201°, 49°, 54°). Data ini kemudian diolah dengan menggunkan software coulomb 3.3 pada matlab. Dari hasil penelitian didapatkan bahwa gempabumi ini gempabumi ini memiliki peningkatan stress coulomb (≤ 1,0 bar) berarah timurlaut-baratdaya dan merupakan daerah gempabumi susulan terjadi. Sedangkan daerah penurunan stress coulomb (≤ -1,0 bar) berarah barat-laut tenggara.
Kata kunci: gempabumi, perubahan stress coulomb, coulomb3.3, USGS, Tugu Hilir.
Abstract
This research aims to Identifed the distribution coulomb stress changed that can be used to seesthe subsequent earthquake that occurs within a short distanceand time span. This research uses earthquake data on 2 August 2019 with Mw 6.9 in Tugu Hilir, Indonesia, at 104.825°E and 7.267°S, with 52.8 km depth (USGS). The focus mechanism (strike, dip, rake) is (201°, 49°, 54°). This data prosessed by using Coulomb 3.3 software in MATLAB. The result found that this main earthquake had an increase coulomb stress changed (≤ 1.0 bar) in the northeast-southwest and was a subsequent earthquake area. Whereas the area of decrese of coulomb stress changed (≤ -1.0 bar) in the northwest-southeast.
 Keywords: earthquake, coulomb stress changed, coulomb 3.3, USGS, Tugu Hilir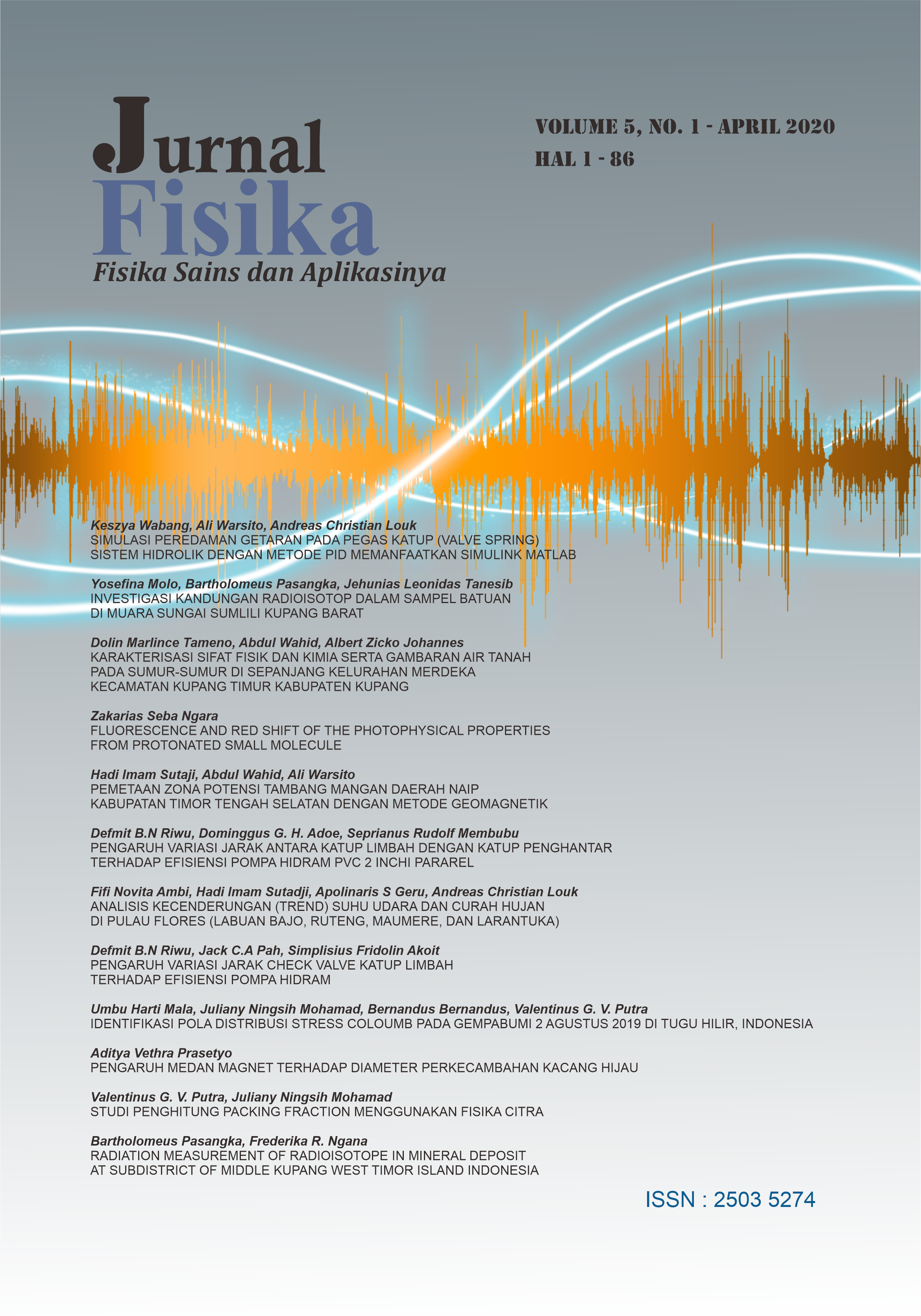 How to Cite
Mala, U., Mohamad, J., Bernandus, B., & Putra, V. (2020). IDENTIFIKASI POLA DISTRIBUSI STRESS COLOUMB PADA GEMPABUMI 2 AGUSTUS 2019 DI TUGU HILIR, INDONESIA. Jurnal Fisika : Fisika Sains Dan Aplikasinya, 5(1), 61-65. https://doi.org/10.35508/fisa.v5i1.2381
Copyright (c) 2020 Jurnal Fisika : Fisika Sains dan Aplikasinya
This work is licensed under a Creative Commons Attribution-NonCommercial-ShareAlike 4.0 International License.
Published By

Jl. Adisucipto, Penfui-Kupang, Lasiana, Klp. Lima, Kota Kupang, Nusa Tenggara Timur., Indonesia

This work is licensed under Attribution-NonCommercial-ShareAlike 4.0 International (CC BY-NC-SA 4.0)