PEMETAAN DAERAH RAWAN EROSI DENGAN MENGGUNAKAN APLIKASI PENGINDERAAN JAUH DAN SISTEM INFORMASI GEOGRAFI DI KABUPATEN TIMOR TENGAH SELATAN PROPINSI NUSA TENGGARA TIMUR
Maria S. Mali

Universitas Nusa Cendana

Jehunias L. Tanesib

Universitas Nusa Cendana

Redi K. Pingak

Universitas Nusa Cendana
Keywords:
Erosion hazard map, Remote sensing, Geographic information system
Abstract
Abstrak
Telah dilakukan pemetaan daerah rawan erosi di Kabupaten Timor Tengah Selatan Provinsi Nusa Tenggara Timur dengan menggunakan aplikasi penginderaan jauh dan sistem infomasi geografi. Tujuan dari penelitian ini adalah  untuk memetakan daerah rawan erosi dan tingkat kerawanannya di Kabupaten Timor Tengah selatan, Propinsi Nusa Tenggara Timur. Metode penelitian berupa pembuatan peta curah hujan, pembuatan peta tutupan lahan, dan pembuatan peta kelas lereng. Berdasarkan dari hasil penelitian, tingkat rawan erosi dibagi menjadi tiga kelas yaitu: kelas tidak rawan erosi  dengan luas wilayah 127.218,69 Ha meliputi kecamatan Noebeba, kecamatan Amanuban Selatan, kecamatan Kualin, sebagian kecamatan Amanuban Timur dan kecamatan Fatukopa. Kelas  rawan erosi  dengan luas wilayah 251.082,09 Ha meliputi hampir seluruh kecamatan Timor Tengah Selatan dan kelas sangat rawan erosi sekitar 9.125,1 Ha meliputi wilayah kecamatan Fatumnasi, kecamatan Tobu, kecamatan Mollo Utara, sebagian kecamatan Kot'olin.
Kata kunci: Peta Rawan Erosi, Penginderaan Jauh, Sistem Informasi Geografi.
Abstract
We made maps of areas prone to erosion in Timor Tengah Selatan regency,  province of East Nusa Tenggara using remote sensing and geographic information system. The purpose of this study is to map areas prone to erosion and risks assessment in  Timor Tengah Selatan regency East Nusa Tenggara province .The research methods include the use of GIS to make rainfall, land cover map and class slopes map. Based on the results, level of erosion can be divided into three classes. First, areas which are not  prone to erosion (127.218,69 Ha), covering districts Noebeba, districts Amanuban South, districts Kualin, most districts Amanuban East and districts Fatukopa. Second, areas prone to erosion (251.082.09 Ha) covering almost all districts Timor Tengah Selatan. Third, areas highly prone to erosion (9.125,1 Ha) covering an area districts Fatumasi, districts Tobu, Mollo Utara, districts, most  districts  Kot`olin.
Keywords: Erosion hazard map, Remote sensing, Geographic information system.
Downloads
Download data is not yet available.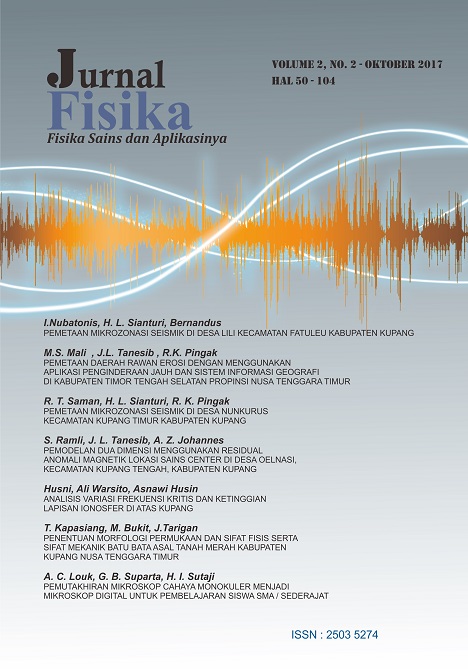 How to Cite
Mali, M., Tanesib, J., & Pingak, R. (2018). PEMETAAN DAERAH RAWAN EROSI DENGAN MENGGUNAKAN APLIKASI PENGINDERAAN JAUH DAN SISTEM INFORMASI GEOGRAFI DI KABUPATEN TIMOR TENGAH SELATAN PROPINSI NUSA TENGGARA TIMUR. Jurnal Fisika : Fisika Sains Dan Aplikasinya, 2(2), 58-65. https://doi.org/10.35508/fisa.v2i2.546
Published By

Jl. Adisucipto, Penfui-Kupang, Lasiana, Klp. Lima, Kota Kupang, Nusa Tenggara Timur., Indonesia

This work is licensed under Attribution-NonCommercial-ShareAlike 4.0 International (CC BY-NC-SA 4.0)