PENDUGAAN JENIS PERLAPISAN BATUAN DENGAN METODE GEOLISTRIK RESISTIVITAS PADA WILAYAH LONGSORAN DESA TOLNAKU KABUPATEN KUPANG
Leonardus Nengga

Universitas Nusa Cendana

Hery L. Sianturi

Universitas Nusa Cendana

Redi K. Pingak

Universitas Nusa Cendana
Keywords:
Geoelectric resistivity, Schlimberger, Res2Dinv
Abstract
Abstrak
Telah dilakukan penelitian tentang pendugaan jenis perlapisan batuan pada wilayah longsoran Desa Tolnaku, Kecamatan Fatuleu, Kabupaten Kupang. Penelitian ini bertujuan untuk mengidentifikasi jenis perlapisan batuan dan memperkirakan kedalaman setiap perlapisan batuan bawah permukaan di sekitar wilayah longsoran tersebut. Pengambilan data dilakukan menggunakan metode geolistrik resistivitas konfigurasi Schlumberger dan analisis data penelitian menggunakan software Res2Dinv untuk mendapatkan nilai resistivitas sebenarnya. Berdasarkan hasil penelitian, jenis batuan di lokasi penelitian terdiri atas batuan lempung (clay) dengan nilai resistivitas 1,1  – 27,60  pada kedalaman 5 – 105 m, batuan alluvium dengan nilai resistivitas 10,0  – 79,4  pada kedalaman 5 – 105 m, dan gamping (limestone) dengan nilai resistivitas 50,0  – 1.817  pada kedalaman 27 – 105 m. 
Kata Kunci: Geolistrik Resistivitas, Schlumberger, Res2Dinv  
Abstract
A study  on the estimation of underground rock petterns in Tolnaku village Kupang Regency has been conducted. The study aims to identify types of rock layers and to estimate the deph of each layer. Data was taken using geoelectricity method with Schlumberger configurasi while the data analysis was performed using Res2Dinv to obtain the real resistivity value. From the results, rocks foud in the research location are clay with resistivity being  1.1   – 27.6  (between 5 – 105 m), alluvium with resistivity being 10.0  – 79.4  (between 5 – 105 m), and limestone with resistivity being 50.0  - 1.817  (between 25–105 m).
Key words: Geoelectric resistivity, Schlimberger, Res2Dinv.
Downloads
Download data is not yet available.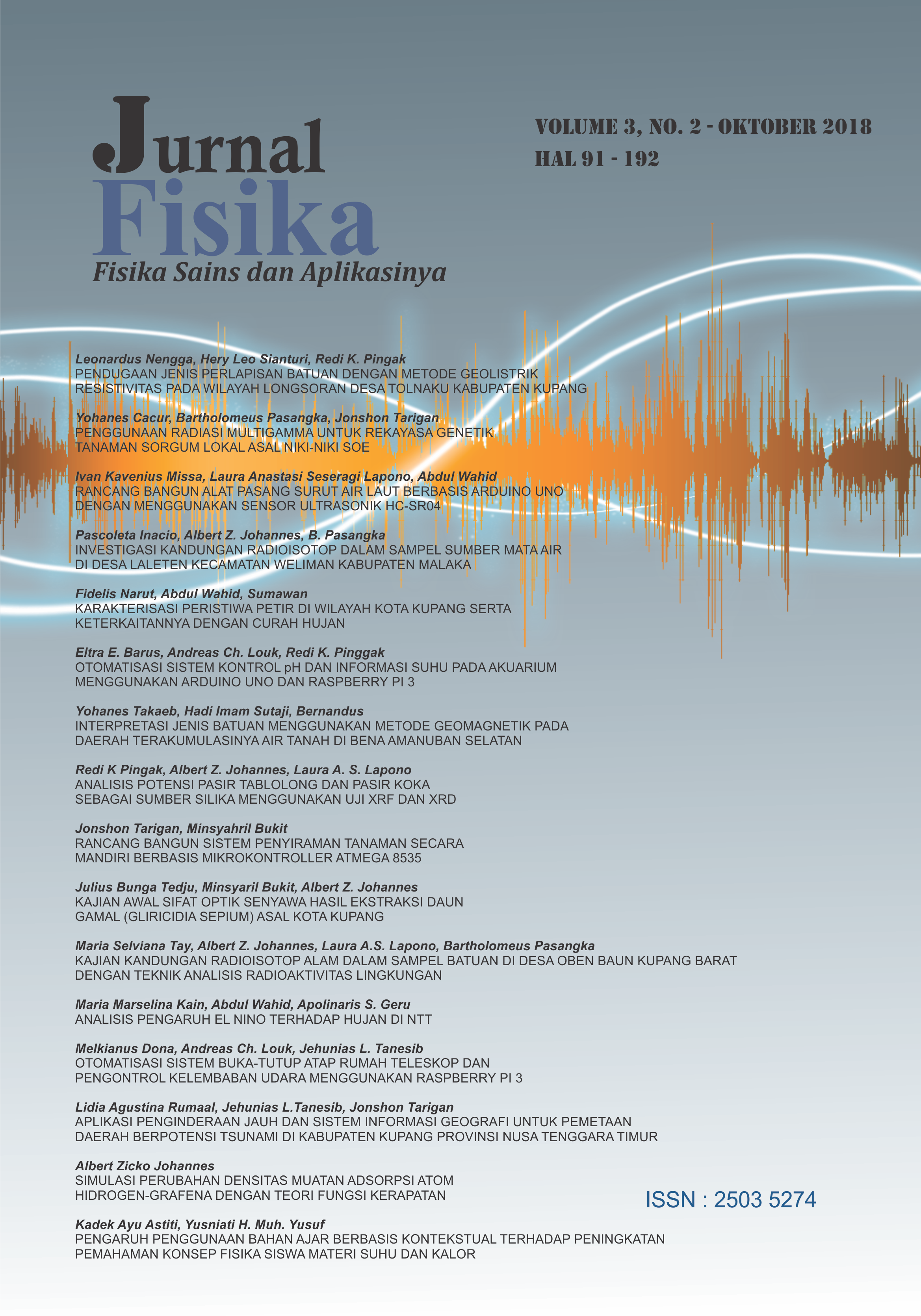 How to Cite
Nengga, L., Sianturi, H., & Pingak, R. (2018). PENDUGAAN JENIS PERLAPISAN BATUAN DENGAN METODE GEOLISTRIK RESISTIVITAS PADA WILAYAH LONGSORAN DESA TOLNAKU KABUPATEN KUPANG. Jurnal Fisika : Fisika Sains Dan Aplikasinya, 3(2), 91-96. Retrieved from https://ejurnal.undana.ac.id/FISA/article/view/10.35508%2Ffisa.v3i2.607
Copyright (c) 2018 Jurnal Fisika : Fisika Sains dan Aplikasinya
This work is licensed under a Creative Commons Attribution-NonCommercial-ShareAlike 4.0 International License.
Published By

Jl. Adisucipto, Penfui-Kupang, Lasiana, Klp. Lima, Kota Kupang, Nusa Tenggara Timur., Indonesia

This work is licensed under Attribution-NonCommercial-ShareAlike 4.0 International (CC BY-NC-SA 4.0)