RANCANG BANGUN ALAT PASANG SURUT AIR LAUT BERBASIS ARDUINO UNO DENGAN MENGGUNAKAN SENSOR ULTRASONIK HC-SR04
Ivan Kavenius Missa

Universitas Nusa Cendana

Laura A. S. Lapono

Universitas Nusa Cendana

Abdul Wahid

Universitas Nusa Cendana
Keywords:
tidal, ultrasonic sensor HC-SR04, Arduino, Delphi
Abstract
Abstrak
Telah dirancang sistem pasang surut air laut berbasis Arduino Uno dengan menggunakan sensor ultrasonik HC-SR04. Sensor ultrasonik berfungsi mengukur ketinggian air laut. Tampilan dari sistem ini berupa ketinggian air laut sesaat yang ditampilkan pada LCD. Selain itu hasil dari sistem ini juga berupa grafik pasang surut yang dirancang menggunakan software Delphi 7.  Sistem ini telah diuji untuk  melihat ketinggian air laut serta untuk menampilkan grafik pasang surut. Proses pengujian alat berlangsung di Dermaga DIT POL AIR NTT. Hasil pengujian menunjukkan bahwa sistem berjalan dengan baik. Dimana diperoleh data bahwa dalam satu hari pengukuran terjadi dua kali pasang dan dua kali surut yang merupakan tipe pasang surut harian ganda dengan puncak pasang tertinggi adalah 164 cm dan surut terendah dengan ketinggian 68 cm.
Kata kunci: pasang surut; sensor ultrasonik HC-SR04; Arduino; Delphi
Abstract
[Title: Design of Sea Water Level Measurement Based on Arduino UNO and Using an Ultrasonic Sensor HC-SR04]. Arduino Uno tidal system has been designed using ultrasonic sensors HC-SR04. Ultrasonic sensors function to shave the sea water level. The display of this system is a momentary sea level displayed on the LCD. In addition the results of the system is also a tidal graph designed using Delphi 7 software. This system has been tested for viewing sea levels as well as for displaying tide charts. The tool testing process takes place at DIT POL AIR NTT Pier. The test results show that the system is running quite well. The data shows that two high and low tides occur daily. This is called semi-diurnal tide with the highest peak tide is 164 cm and the lowest tide is 68 cm.
Keywords: tidal; ultrasonic sensor HC-SR04; Arduino; Delphi
Downloads
Download data is not yet available.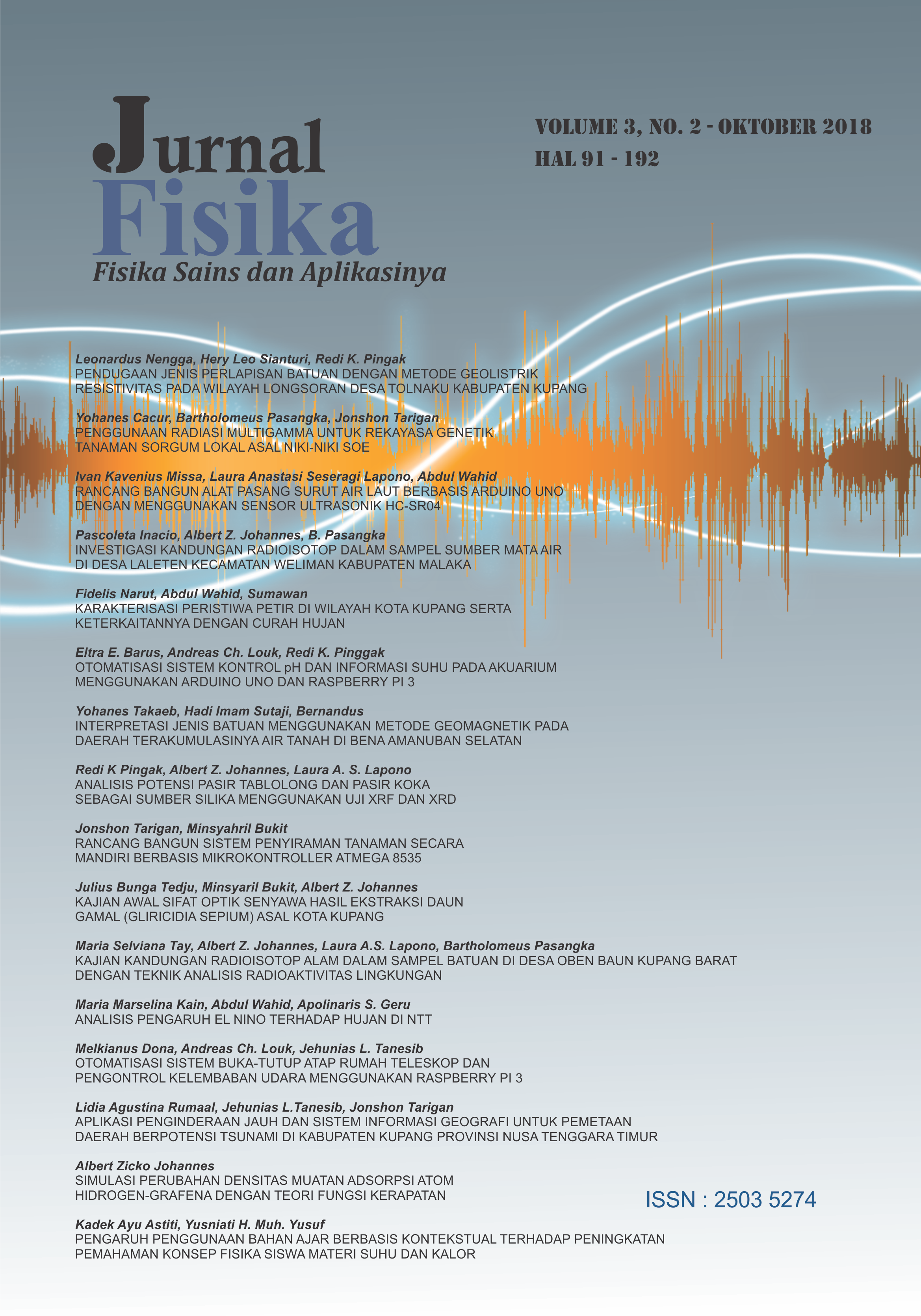 How to Cite
Missa, I., Lapono, L., & Wahid, A. (2018). RANCANG BANGUN ALAT PASANG SURUT AIR LAUT BERBASIS ARDUINO UNO DENGAN MENGGUNAKAN SENSOR ULTRASONIK HC-SR04. Jurnal Fisika : Fisika Sains Dan Aplikasinya, 3(2), 102-105. https://doi.org/10.35508/fisa.v3i2.609
Copyright (c) 2018 Jurnal Fisika : Fisika Sains dan Aplikasinya
This work is licensed under a Creative Commons Attribution-NonCommercial-ShareAlike 4.0 International License.
Published By

Jl. Adisucipto, Penfui-Kupang, Lasiana, Klp. Lima, Kota Kupang, Nusa Tenggara Timur., Indonesia

This work is licensed under Attribution-NonCommercial-ShareAlike 4.0 International (CC BY-NC-SA 4.0)