INVESTIGASI KANDUNGAN RADIOISOTOP DALAM SAMPEL SUMBER MATA AIR DI DESA LALETEN KECAMATAN WELIMAN KABUPATEN MALAKA
Pascoleta Inacio

Universitas Nusa Cendana

Albert Zicko Johannes

Universitas Nusa Cendana

Bartholomeus Pasangka

Universitas Nusa Cendana
Keywords:
Radioisotopes, Mass Specific Activities, Contamination Areas, Water, Radiation Doses
Abstract
Abstrak
Telah dilakukan penelitian untuk memeriksa kandungan radioisotop dalam sampel sumber mata air di Desa Laleten Kecamatan Weliman Kabupaten Malaka. Penelitian ini bertujuan untuk menentukan interval dan tingkat aktivitas jenis massa kandungan radioisotop dari sumber air minum lokal dan kemudian dibandingkan dengan standar untuk tingkat kontaminasi dan standar ambang batas dosis radiasi yang diperbolehkan untuk persyaratan air minum (Permenkes RI). Metode yang digunakan dalam penelitian ini yaitu dengan metode sampling. Sampel dari lapanga dipanaskan dan dikeringkan di laboratorium setelah itu dicacah menggunakan alat Detektor Geiger Muller dalam jangka waktu 5 menit. Hasil penelitian ini menunjukkan interval aktivitas jenis massa  dari sampel adalah 2,363 × 10-5 μCi/gram sampai dengan 9,455 × 10-5 μCi/gram. Tingkat kontaminasi radioisotop di lokasi penelitian tergolong daerah kontaminasi radiasi alpha sedang dan radiasi beta rendah. Sedangkan air  yang bersumber dari mata air weliman tidak layak digunakan sebagai air minum berdasarkan standar Permenkes RI.
Kata kunci: Radioisotop, Aktivitas Jenis Massa, Daerah Kontaminasi, Dosis Radiasi, Air.
Abstract
[Title: Please Type Title of Article in English in here and Bold formated] Research has been conducted to examine the radioisotope content in spring water samples in Laleten Village, Weliman District, Malaka Regency. This study aims to determine the interval and the level of mass specific activity of radioisotope content from local drinking water sources and then compared with the standard for contamination levels and the standard for radiation dose thresholds allowed for drinking water requirements (Permenkes RI).The method used in this study is the sampling method. Samples from the fields are heated and dried in the laboratory after which they are counted using a Geiger Muller Detector for 5 minutes. The results of this study indicate the interval of mass specific activity from the sample is 2.363 × 10-5 μCi / gram up to 9.455 × 10-5 μCi / gram. The level of radioisotope contamination at the study site was classified as a medium-alpha radiation and low- beta radiation contamination area. Whereas water sourced from Weliman spring is not suitable for use as drinking water based on the Permenkes RI standard.
Keywords: Radioisotopes,  Mass Specific Activities, Contamination Areas, Water, Radiation Doses.
Downloads
Download data is not yet available.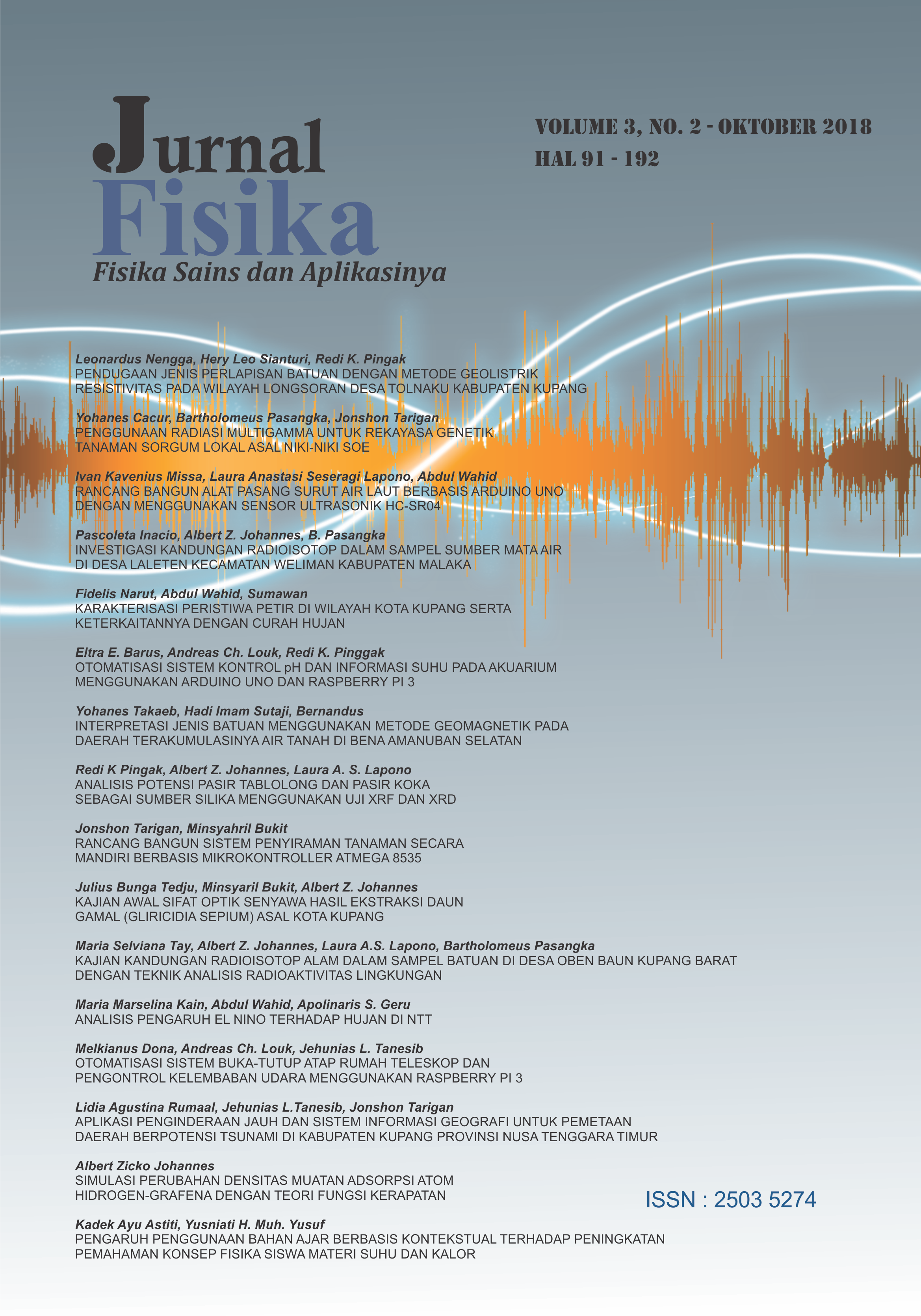 How to Cite
Inacio, P., Johannes, A., & Pasangka, B. (2018). INVESTIGASI KANDUNGAN RADIOISOTOP DALAM SAMPEL SUMBER MATA AIR DI DESA LALETEN KECAMATAN WELIMAN KABUPATEN MALAKA. Jurnal Fisika : Fisika Sains Dan Aplikasinya, 3(2), 106-109. https://doi.org/10.35508/fisa.v3i2.610
Copyright (c) 2018 Jurnal Fisika : Fisika Sains dan Aplikasinya
This work is licensed under a Creative Commons Attribution-NonCommercial-ShareAlike 4.0 International License.
Published By

Jl. Adisucipto, Penfui-Kupang, Lasiana, Klp. Lima, Kota Kupang, Nusa Tenggara Timur., Indonesia

This work is licensed under Attribution-NonCommercial-ShareAlike 4.0 International (CC BY-NC-SA 4.0)