KARAKTERISASI PERISTIWA PETIR DI WILAYAH KOTA KUPANG SERTA KETERKAITANNYA DENGAN CURAH HUJAN
Fidelis Narut

Universitas Nusa Cendana

Abdul Wahid

Universitas Nusa Cendana

Sumawan Sumawan

Badan Meteorologi Klimatologi dan Geofisika (BMKG) Stasiun Geofisika Kelas 1 Kampung Baru Kupang
Keywords:
Cloud-to-Ground (CG) lightning, rainfall, correlation
Abstract
Abstrak
Telah dilakukan penelitian berkaitan dengan karakterisasi peristiwa petir diwilayah  kota Kupang serta keterkaitannya dengan curah hujan. Total kejadian curah hujan untuk wilayah kota Kupang pada tahun 2013 adalah sebesar 1.956 mm, tahun 2014 sebesar 1.402 mm, tahun 2015 sebesar 1.324 mm dan tahun 2016 total curah hujannya adalah 920 mm. Dari analisis curah hujan pertahun untuk wilayah kota kupang diperoleh bahwa secara umum kota kupang memiliki tipe pola hujan monsunal. Sambaran CG tahun 2013 berjumlah 61.852 sambaran, tahun 2014 berjumlah 234.452 sambaran, tahun 2015 berjumalh 109.915 sambaran CG, tahun 2016 berjumlah 118.753 sambaran. Berdasarkan pengolahan data sebaran sambaran CG untuk wilayah Kota Kupang dari tahun 2013-2016 diperoleh bahwa wilayah yang banyak terjadi sambaran petir tiap tahunnya adalah wilayah Oebobo. Nilai korelasi (r) antara petir CG dan curah hujan pada tiap tahun diperoleh pada tahun 2013 sebesar 0,859, tahun 2014 nilai korelasi sebesar 0,787, tahun 2015 sebesar 0,914, dan pada tahun 2016 sebesar 0,809. Berdasarkan hasil uji korelasi maka dapat disimpulkan bahwa hubungan antara curah hujan dan sambaran CG di wilayah kota Kupang memiliki hubungan yang searah.
Kata kunci: petir cloud-to-ground (CG), curah hujan, korelasi
Abstract
[CHARACTERIZATION OF LIGHTNING EVENTS IN KUPANG CITY AREA AND THEIR CORRESPONDENCE WITH RAINFALL]. The research about analysis of characterization of lightning events in kupang city area and their correspondence with rainfall. The total rainfall for the city of Kupang in 2013 is 1,956 mm, 2014 by 1,402 mm, 2015 by 1,324 mm and in 2016 the total rainfall is 920 mm. From the analysis of rainfall per year for the city area Kupang obtained that in general Kupang city has a type of monsoonal rain pattern. The CG of 2013 is 61,852 strikes, 2014 of 234,452 strikes, 2015 of 109,915 CG strikes, 2016 of 118,753 strikes. Based on data processing spread of CG to Kupang City area from year 2013-2016 obtained that the area that happened many lightning strike every year is Oebobo area. Correlation value (r) between CG lightning and rainfall in each year is obtained in 2013 of 0.859, 2014 correlation value of 0.787, 2015 of 0.914, and in 2016 of 0.809. Based on the results of correlation test it can be concluded that the relationship between rainfall and CG strikes in the city of Kupang has a direct relationship.
Keywords: Cloud-to-Ground (CG) lightning, rainfall, correlation
Downloads
Download data is not yet available.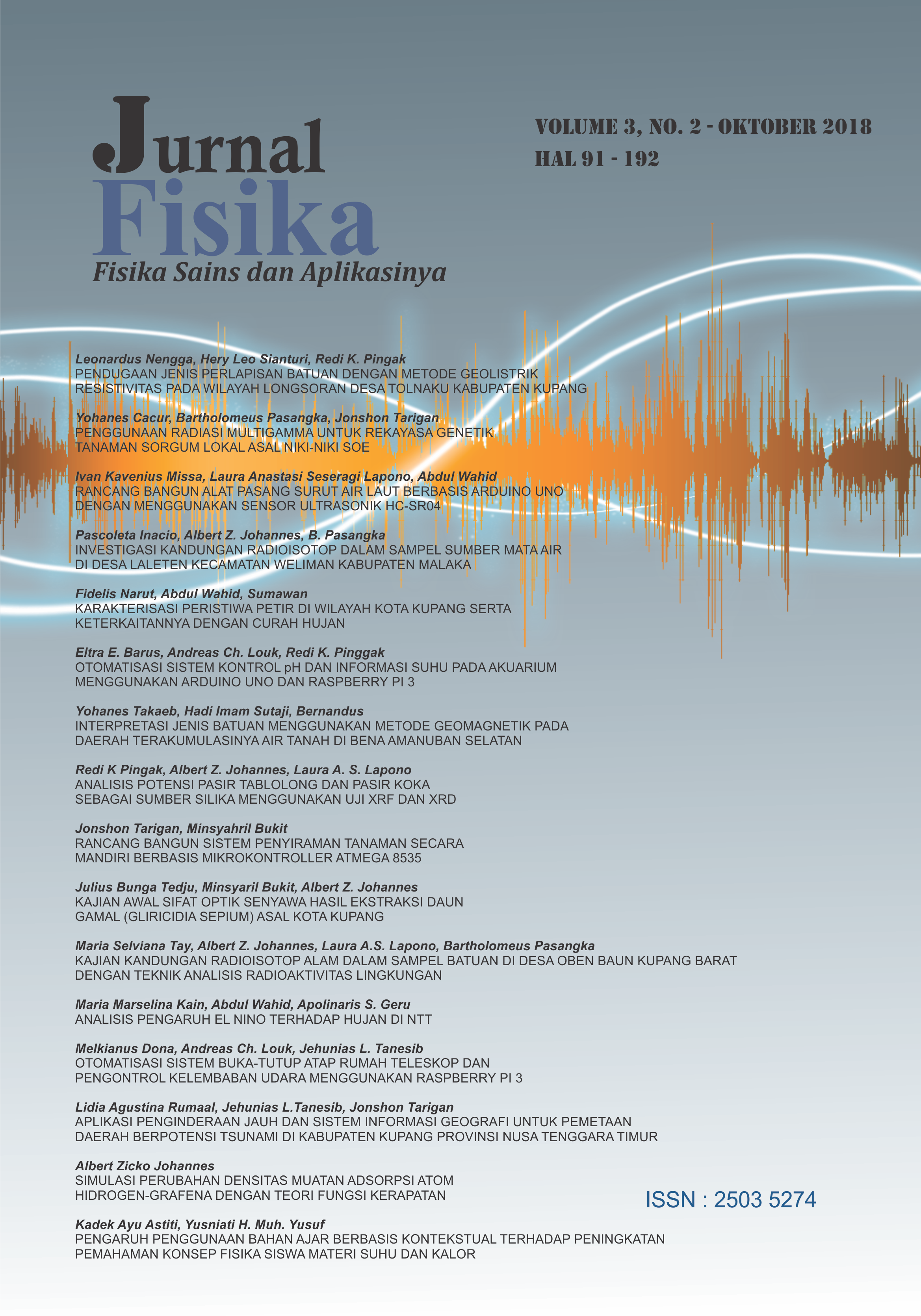 How to Cite
Narut, F., Wahid, A., & Sumawan, S. (2018). KARAKTERISASI PERISTIWA PETIR DI WILAYAH KOTA KUPANG SERTA KETERKAITANNYA DENGAN CURAH HUJAN. Jurnal Fisika : Fisika Sains Dan Aplikasinya, 3(2), 110-116. https://doi.org/10.35508/fisa.v3i2.611
Copyright (c) 2018 Jurnal Fisika : Fisika Sains dan Aplikasinya
This work is licensed under a Creative Commons Attribution-NonCommercial-ShareAlike 4.0 International License.
Published By

Jl. Adisucipto, Penfui-Kupang, Lasiana, Klp. Lima, Kota Kupang, Nusa Tenggara Timur., Indonesia

This work is licensed under Attribution-NonCommercial-ShareAlike 4.0 International (CC BY-NC-SA 4.0)