RANCANG BANGUN SISTEM PENYIRAMAN TANAMAN SECARA MANDIRI BERBASIS MIKROKONTROLLER ATMEGA 8535
Jonshon Tarigan

Universitas Nusa Cendana

Minsyahril Bukit

Universitas Nusa Cendana
Keywords:
Soil moisture, independent watering, humidity sensor
Abstract
Abstrak
Penelitian ini dilakukan untuk mempelajari perancangan piranti yang dapat melakukan penyiraman secara mandiri. Untuk mempermudah kegiatan itu, maka kita perlu merancang sebuah sistem perangkat yang dapat melakukan penyiraman tanaman cabai secara mandiri. Alat ini bertujuan untuk menggantikan pekerjaan manual menjadi otomatis. Manfaat yang didapat dari alat ini adalah dapat mempermudah pekerjaan manusia dalam menyiram tanaman cabai secara mandiri. Penelitian ini dilakukan dengan merancang, membuat dan mengimplementasikan komponen-komponen sistem yang meliputi mikrokontroller sebagai pengendali, driver relay untuk memghiupkan dan mematikan pompa Air, dan LCD (linquit Cristal Display) untuk menampilkan nilai kelembaban tanah. Proses pengambilan data di dalam sebuah ruangan dengan menampilkan dalam LCD nilai kelembaban 1 % maka dynamo ON. Nilai tersebut diperoleh dari hasil pengukuran menggunakan alat kelembaban tanah. Sedangkan dari hasil pengukuran menggunakan sensor kelembaban yl 69 yang dilakukan pada tanaman cabai diperoleh nilai kelembaban pada tanaman cabai 45 % - 65%. Dapat dilihat bahwa hasil menunjukkan sesuai dengan nilai kelembaban cabai yang diperbolehkan, sehingga dapat ditarik kesimpulan bahwa rancangan sistem ini berjalan dengan baik.
Kata Kunci: Kelembaban tanah, Penyiraman mandiri, Sensor Kelembaban,
Abstract
This research was conducted to study the design of devices that can-do watering independently. To facilitate this activity, we need to design a system of devices that can water the chili plants independently. This tool aims to replace manual work to be automatic. The benefits obtained from this tool are to facilitate human work in watering chili plants independently. This research was carried out by designing, creating and implementing system components including the microcontroller as a controller, relay driver to blow and turn off the water pump, and LCD (liquid Cristal Display) to display the value of soil moisture. The process of retrieving data in a room by displaying it in LCD with a humidity value of 1%, then the dynamo is ON. This value is obtained from the measurement results using soil moisture tools. Whereas from the measurement results using the humidity sensor yl 69 which was carried out on chilli plants obtained the value of humidity in chili plants 45% - 65%. It can be seen that the results show in accordance with the moisture value of chilli that is allowed, so it can be concluded that the design of the system is running well.
Keyword: Soil moisture, independent watering, humidity sensor.
Downloads
Download data is not yet available.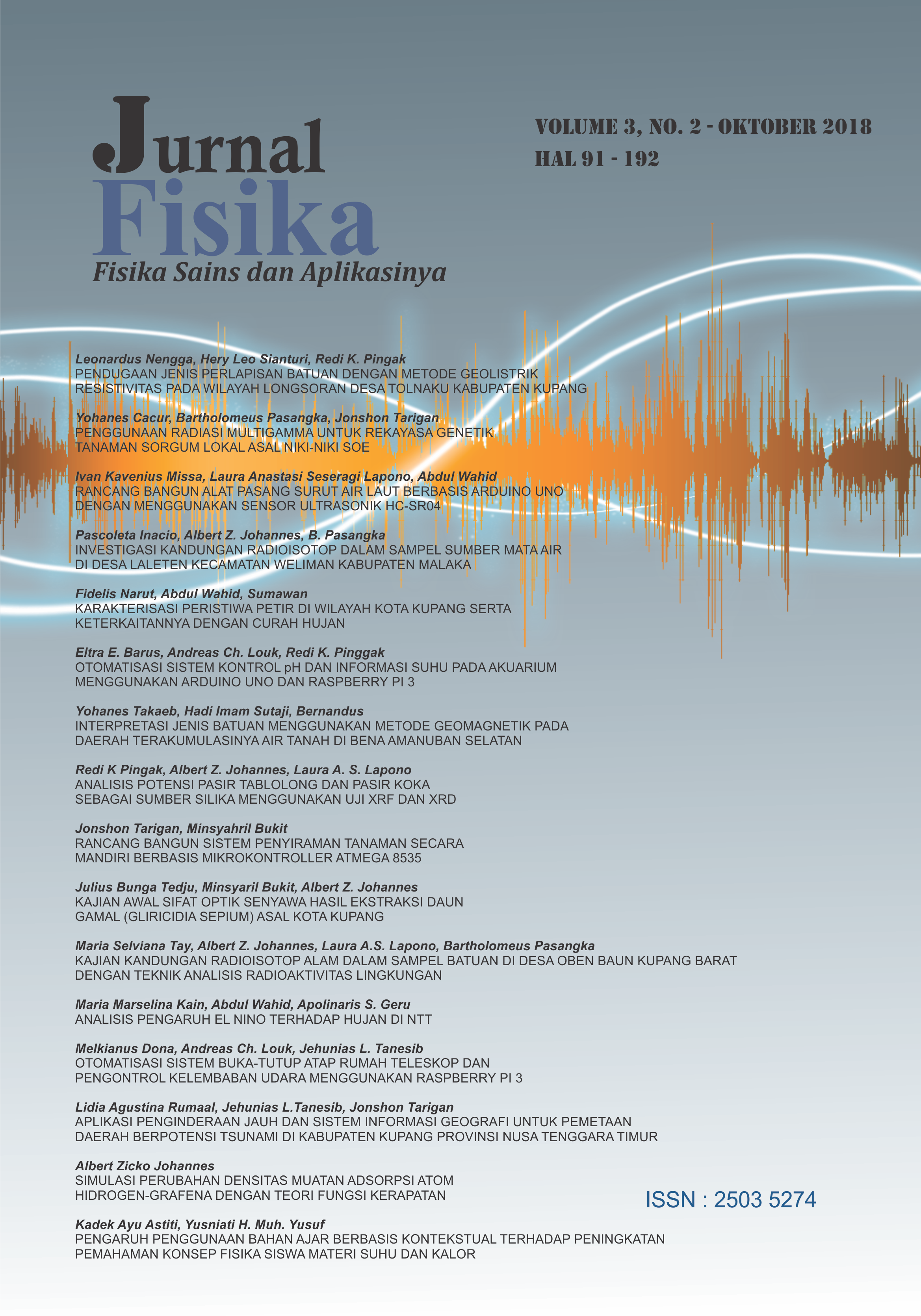 How to Cite
Tarigan, J., & Bukit, M. (2018). RANCANG BANGUN SISTEM PENYIRAMAN TANAMAN SECARA MANDIRI BERBASIS MIKROKONTROLLER ATMEGA 8535. Jurnal Fisika : Fisika Sains Dan Aplikasinya, 3(2), 137-141. https://doi.org/10.35508/fisa.v3i2.615
Published By

Jl. Adisucipto, Penfui-Kupang, Lasiana, Klp. Lima, Kota Kupang, Nusa Tenggara Timur., Indonesia

This work is licensed under Attribution-NonCommercial-ShareAlike 4.0 International (CC BY-NC-SA 4.0)