KAJIAN AWAL SIFAT OPTIK SENYAWA HASIL EKSTRAKSI DAUN GAMAL (GLIRICIDIA SEPIUM) ASAL KOTA KUPANG
Julius Bunga Tedju

Universitas Nusa Cendana

Minsyahril Bukit

Universitas Nusa Cendana

Albert Zicko Johannes

Universitas Nusa Cendana
Abstract
Abstrak
Penelitian tentang kajian awal sifat optik senyawa ekstraksi daun gamal (Gliricidia sepium) asal Kota Kupang telah dilakukan. Tujuan penelitian ini adalah untuk menentukan nilai jangkauan serapan, koefisisen serapan, dan celah energinya. Daun gamal kering dihaluskan sampai menjadi serbuk, diekstraksi secara maserasi,dievaporasi menggunakan evaporator, kemudian diencerkan dengan menggunakan pelarut etanol. Selanjutnya hasil tersebut dikarakterisasi menggunakan Spektrometer UV-Vis untuk mendapatkan spektrum serapannya. Berdasarkan hasil analisis  spektrum serapannya, jangkauan serapan untuk konsentrasi 200 ppm, 300 ppm, dan 400 ppm berkisar 200 nm sampai 700 nm. Nilai koefisien serapannya pada 200 ppm berkisar dari 0 hingga 1.0932925 cm-1, 300 ppm berkisar dari 0 hingga 1.68119 cm-1, dan pada 400 ppm berkisar dari 0 hingga 2.227001 cm-1. Nilai celah energinya sebesar 1.831 eV. Berdasarkan nilai celah energi tersebut senyawa hasil ekstraksi daun gamal dapat dikelompokan menjadi bahan semikonduktor.
Kata Kunci: Daun gamal, spektrum serapan, jangkauan serapan, koefisien serapan, celah energi.
Abstract
Research about preliminary study on optical properties of gamal leaves (Gliricidia sepium) extraction compounds from Kupang region has been done. The purpose of this study was to determine its absorption range, absorption coefficient and energy. The dried gamal leaves are crushed to powder, extracted by  maceration, evaporated using an evapotator, then diluted using ethanol solvent. Next the result it is characterized byUV-Vis spectrometer to obtain it absoption spectrum. Based on the analysis result, its absorption range for concentrations 200 ppm, 300 ppm, and 400 ppm is 200 nm to 700 nm.The value of the absorption coefficient at 200 ppm ranges from 0 to 1,093925 cm-1, 300 ppm ranges from 0 to 1,68119 cm-1, and 400 ppm ranges from 0 to 2,227001 cm-1. The energy gap value of 1.831 eV. Based on the value of gap, the compound of gamal leaves extraction results can be classified into semiconductor materials.
Key words: Gamal Leaf, Absorption Range, Energy Gap, Absorption Coefficient.
Downloads
Download data is not yet available.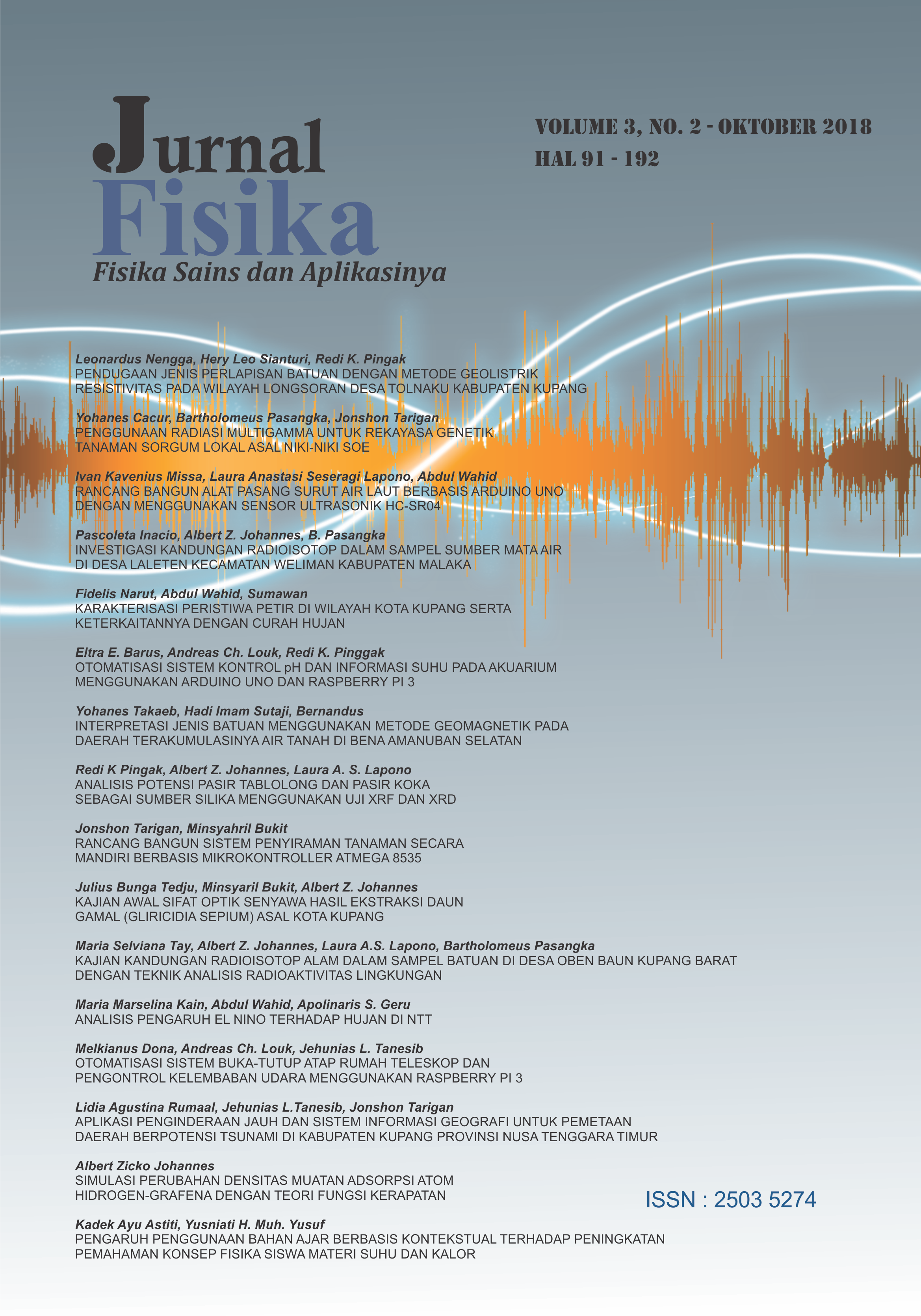 How to Cite
Tedju, J., Bukit, M., & Johannes, A. (2018). KAJIAN AWAL SIFAT OPTIK SENYAWA HASIL EKSTRAKSI DAUN GAMAL (GLIRICIDIA SEPIUM) ASAL KOTA KUPANG. Jurnal Fisika : Fisika Sains Dan Aplikasinya, 3(2), 142-146. https://doi.org/10.35508/fisa.v3i2.616
Published By

Jl. Adisucipto, Penfui-Kupang, Lasiana, Klp. Lima, Kota Kupang, Nusa Tenggara Timur., Indonesia

This work is licensed under Attribution-NonCommercial-ShareAlike 4.0 International (CC BY-NC-SA 4.0)