KARAKTERISASI SIFAT FISIK DAN KIMIA SERTA GAMBARAN AIR TANAH PADA SUMUR-SUMUR DI SEPANJANG KELURAHAN MERDEKA KECAMATAN KUPANG TIMUR KABUPATEN KUPANG
Dolin Marlince Tameno

Universitas Nusa Cendana

Abdul Wahid

Universitas Nusa Cendana

Albert Zicko Johannes

Universitas Nusa Cendana
Keywords:
Salinitas, Kadar Oksigen Terlarut, Derajat Keasaman, Suhu, Konduktivitas
Abstract
ABSTRAK
Penelitian karakterisasi sifat fisik dan kimia serta gambaran air tanah pada sumur-sumur di sepanjang Kelurahan Merdeka Kecamatan Kupang Timur Kabupaten Kupang telah dilakukan. Penelitian ini bertujuan untuk menggambarkan dan mengetahui kelayakan air pada sumur-sumur berdasarkan nilai salinitas, kadar oksigen terlarut (DO), tingkat keasaman (pH), suhu dan konduktivitas air tanah. Pengambilan data menggunakan alat-alat portable dan diolah menggunakan surfer 13 dan arcgis 10. Hasil penelitian menunjukkan bahwa yang nilai dari masing-masing parameter bervariasi karena ada beberapa faktor lingkungan. Secara keseluruhan nilai-nilai tersebut sesuai dengan standar kelayakan air layak konsumsi.
Kata kunci :  Salinitas, Kadar Oksigen Terlarut, Derajat Keasaman, Suhu, Konduktivitas
ABSTRACT
Research on the characterization of the physical and the chemical of groundwater in wells along Merdeka Village Kupang East District of Kupang Regency had been done.This research aims to describe and to know the feasible of water in the wells based on salinity, dissolved oxygen(DO), acidity(pH), temperature, and conductivity of groundwater. Data retrieval used portable tools and processed by  surfer 13 and Arcgis 10. The result varies because there are several environmental factor. Overall these values are suitable in the standard of feasible water consumption.
Keyword : Salinity, Dissolved Oxygen Levels, Acidity, Temperature, Conductivity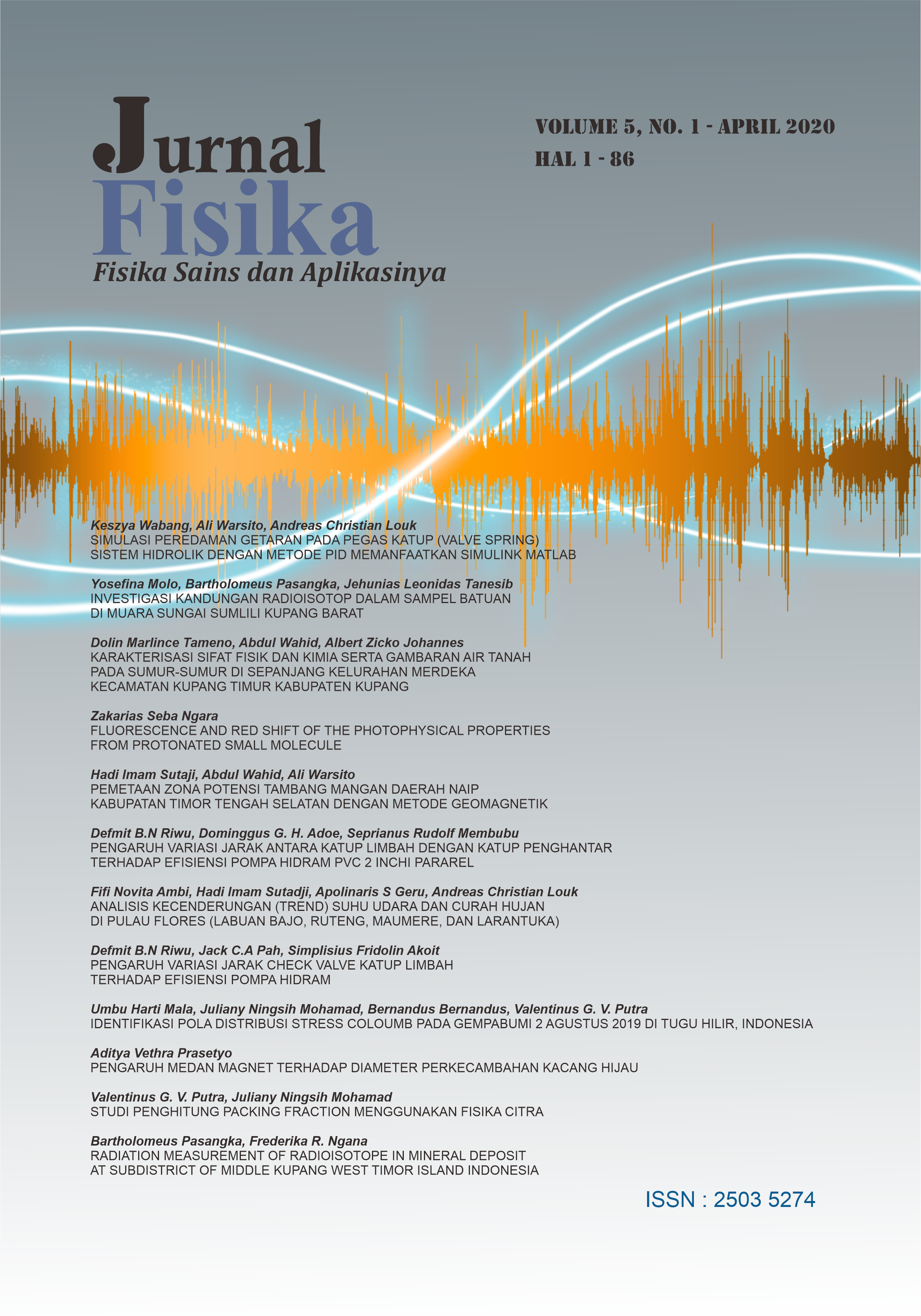 How to Cite
Tameno, D., Wahid, A., & Johannes, A. (2020). KARAKTERISASI SIFAT FISIK DAN KIMIA SERTA GAMBARAN AIR TANAH PADA SUMUR-SUMUR DI SEPANJANG KELURAHAN MERDEKA KECAMATAN KUPANG TIMUR KABUPATEN KUPANG. Jurnal Fisika : Fisika Sains Dan Aplikasinya, 5(1), 19-24. https://doi.org/10.35508/fisa.v5i1.1386
Copyright (c) 2020 Jurnal Fisika : Fisika Sains dan Aplikasinya
This work is licensed under a Creative Commons Attribution-NonCommercial-ShareAlike 4.0 International License.
Published By

Jl. Adisucipto, Penfui-Kupang, Lasiana, Klp. Lima, Kota Kupang, Nusa Tenggara Timur., Indonesia

This work is licensed under Attribution-NonCommercial-ShareAlike 4.0 International (CC BY-NC-SA 4.0)