PENGARUH VARIASI JARAK CHECK VALVE KATUP LIMBAH TERHADAP EFISIENSI POMPA HIDRAM
Defmit B.N Riwu

Nusa Cendana University

Jack C.A Pah

Nusa Cendana University

Simplisius Fridolin Akoit

mahasiswa
Abstract
Abstrak
Pompa Hidram merupakan suatu alat yang digunakan untuk menaikan air dari tempat rendah ketempat yang tinggi secara Automatic dengan energi, pompa hidram bekerja tanpa menggunakan bahan bakar atau tambahan energi dari luar dan bahan yang digunakan menggunakan pipa PVC, karena ekonomis dan lebih mudah diperbaiki bila ada kerusakan. Dalam penelitian ini metode penelitian yang digunakan menggunakan metode experimental dengan variabel bebasnya yaitu variasi jarak Check Valve katup limbah (4 cm,8 cm,dan12 cm), diameter Check Valve yang digunakan 2 in. Penelitian ini dilakukan untuk mengetahui debit pemompaan, debit limbah, jumlah ketukan, Efisiensi D'abussion dan Rankine. hasilnya menunjukan Efisiensi tertinggi terdapat pada jarak Check Valve4 cm diameter katup limbah 2,5 in sebesar 76,46 % untuk efisiensi D'abussion,
dan 68,29 %untuk efisiensi Rankine. Sedangkan efisiensi terendah terdapat pada variasi jarak 12 cm katup limbah 2,5 in sebesar 75,13 % untuk efisiensi D'abussion, dan 67,42 % untuk efisiensi Rankine.
Kata kunci: Diameter katup limbah, diameter katup pengantar, efisiensi pompa, Check Valve.

Abstract
Hydraulic Pump is a device used to raise water from low to high places Automatically with energy, hydram pump works without using fuel or additional energy from outside and the material used uses PVC pipes, because it is economical and easier to repair when there is damage. In this study the research method used was using an experimental method with independent variables namely Check Valve waste valve distance variations (4 cm, 8 cm, and 12 cm), Check Valve diameter used 2 in. This research was conducted to determine pumping discharge, waste discharge, total knock, D'Aabussion and Rankine Efficiency. the results showed the highest efficiency was found at the Check Valve distance of 4 cm in diameter of 2.5 in sewage valve at 76.46% for D'Abussion efficiency, and 68.29% for Rankine efficiency. While the lowest efficiency is in the 12 cm distance variation of 2.5 in. Sewage valves at 75.13% for D'Aabussion efficiency and 67.42% for Rankine efficiency.
Keywords: Waste valve diameter, delivery valve diameter, pump efficiency,Check Valve.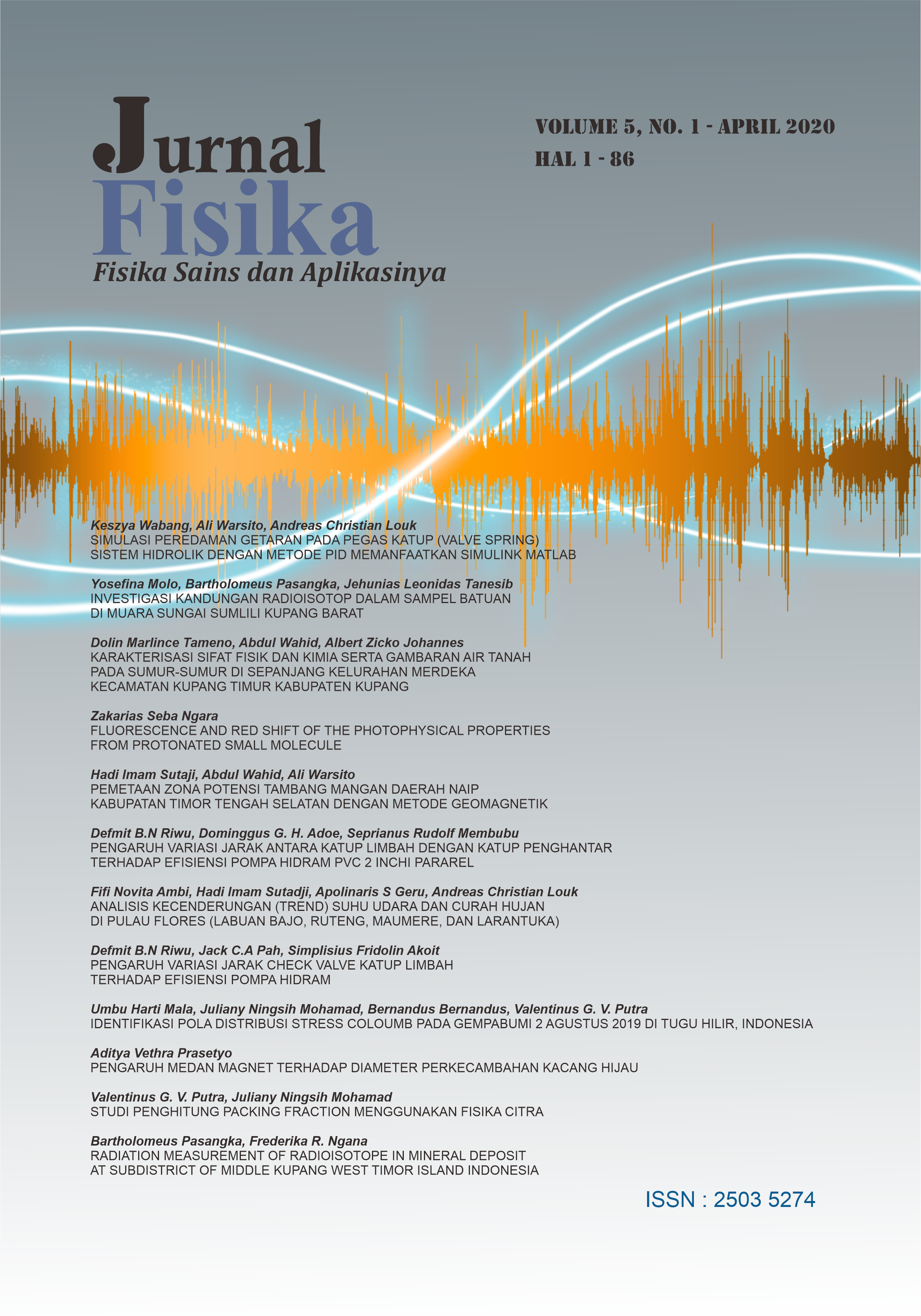 How to Cite
Riwu, D., Pah, J., & Akoit, S. (2020). PENGARUH VARIASI JARAK CHECK VALVE KATUP LIMBAH TERHADAP EFISIENSI POMPA HIDRAM. Jurnal Fisika : Fisika Sains Dan Aplikasinya, 5(1), 57-60. https://doi.org/10.35508/fisa.v5i1.2269
Copyright (c) 2020 Jurnal Fisika : Fisika Sains dan Aplikasinya
This work is licensed under a Creative Commons Attribution-NonCommercial-ShareAlike 4.0 International License.
Published By

Jl. Adisucipto, Penfui-Kupang, Lasiana, Klp. Lima, Kota Kupang, Nusa Tenggara Timur., Indonesia

This work is licensed under Attribution-NonCommercial-ShareAlike 4.0 International (CC BY-NC-SA 4.0)