PEMULIAAN TANAMAN KACANG TUNGGAK (VIGNA UNGUILATA) LOKAL MALAKA DENGAN METODE IRRADIASI MULTIGAMMA
Adelina Bete

Nusa Cendana University

Jehunias Leonidas Tanesib

Nusa Cendana University

Bartholomeus Pasangka

Universitas Nusa Cendana
Abstract
Abstrak
Kacang tunggak (vigna unguilata) merupakan tanaman palawija berpolong yang telah lama dikenal oleh masyarakat NTT sebagai bahan makanan bergizi yang biasanya dimasak bersama nasi. Tingkat produktivitas kacang tunggak sangat dipengaruhi oleh banyak faktor antara lain penggunaan varietas unggul, kesuburan tanah serta teknik budidayanya. Oleh karena itu untuk meningkatkan produktivitas kacang tunggak pada lahan kering dilakukan penelitian untuk mengetahui dan untuk mendapat varietas unggul, dengan menggunakan teknik radiasi multigamma. Metode yang digunakan dalam penelitian ini adalah dengan menggunakan radiasi multigaamma dengan dosis 1000 rads, 2000 Rads, 3000 Rads, 4000 Rads. Hasil penelitian menunjukan bahwa penggunaan dosis radiasi terbaik terdapat pada dosis 2000 Rads. Katakteristik fisis unggul yang diperoleh meliputi tumbuh lebih cepat, tinggi tanaman 205,5 cm, umur panen lebih singkat yaitu 80 hari setelah tanam, jumlah produksi lebih tinggi yaitu 43, 67 gram/ 100 biji dan kandungan protein 19, 679%.
Kata kunci: Pemuliaan; kacang tungga; irradias; multigamma.
Abstract
The cowpea (vigna unguilata) is a sprouted palawija plant that has long been known by the people of NTT as a nutritious food ingredient that is usually cooked with rice. The productivity level of cowpea is strongly influenced by many factors including the use of improved varieties, soil fertility and cultivation techniques. Therefore, to increase the productivity of cowpea on dry land, a research was conducted to find out and to get superior varieties, using multigamma radiation techniques. The method used in this research is to use multigaamma radiation at a dose of 1000 rads, 2000 Rads, 3000 Rads, 4000 Rads. The results showed that the use of the best radiation dose was found at a dose of 2000 Rads. The superior physical catabolism obtained includes growing faster, plant height 205.5 cm, shorter harvest life, 80 days after planting, the number of production is higher, 43.67 gram / 100 seeds and protein content 19, 679%. 
Keywords: Breeding; cowpea; irradiation; multigamma.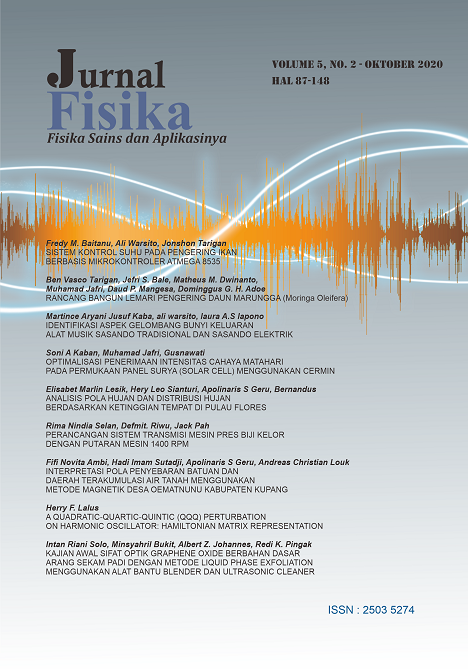 How to Cite
Bete, A., Tanesib, J., & Pasangka, B. (2020). PEMULIAAN TANAMAN KACANG TUNGGAK (VIGNA UNGUILATA) LOKAL MALAKA DENGAN METODE IRRADIASI MULTIGAMMA. Jurnal Fisika : Fisika Sains Dan Aplikasinya, 5(2), 149-155. Retrieved from https://ejurnal.undana.ac.id/index.php/FISA/article/view/3539
Copyright (c) 2020 Jurnal Fisika : Fisika Sains dan Aplikasinya
This work is licensed under a Creative Commons Attribution-NonCommercial-ShareAlike 4.0 International License.
Published By

Jl. Adisucipto, Penfui-Kupang, Lasiana, Klp. Lima, Kota Kupang, Nusa Tenggara Timur., Indonesia

This work is licensed under Attribution-NonCommercial-ShareAlike 4.0 International (CC BY-NC-SA 4.0)