PENGARUH WAKTU PERENDAMAN DAN MEDIA PERENDAMAN TERHADAP KEKUATAN TARIK KOMPOSIT OPEN HOLE DISCONTINUOUS KULIT BUAH KELAPA MATRIKS POLYESTER
Dominggus G. H. Adoe

Universitas Nusa Cendana

Defmit B. N. Riwu

Universitas Nusa Cendana

Yoffial D. Banani

Universitas Nusa Cendana
Abstract
Abstrak
Pemanfaatan serat alam sebagai pengikat pada komposit sudah banyak digunakan, diantaranya Seratb buah lontar, serat daun gewang, serat widuri, serat nenas, serat kelapa dan masih banyak serat lainnya. Perkembangan teknologi, sifat fisika-kimia serat, dan kesadaran konsumen untuk kembali ke bahan alami, membuat serat sabut kelapa dimanfaatkan menjadi bahan baku industri karpet, jok dan dashboard kendaraan, kasur, bantal, dan hardboard. Serat sabut kelapa yang dikombinasikan dengan resin sebagai matriks akan dapat menghasilkan alternatif yang salah satunya aplikasi material yang mendukung pemanfaatan komposit. Dalam penelitian ini, dilakukan analisis pengaruh waktu perendaman dan media perendaman terhadap kekuatan tarik komposit open hole discontinuous kulit buah kelapa matriks polyester. Dalam pengujian kekuatan tarik matriks dan komposit open hole discontinuous menggunkan standar ASTM D5766. Dari pengujian tarik yang dilakukan terhadap spesimen uji, diperoleh data rata-rata beban pengujian untuk setiap jenis komposit yaitu komposit tanpa perendaman memiliki beban tarik putus tertinggi dengan nilai rata-rata sebesar 2013 N, pada komposit yang diberi perlakuan perendaman air tawar 1 hari memilik beban tarik putus dengan nilai rata-rata teringgi 1777 N, dan nilai rata-rata beban tarik putus terendah adalah pada komposit yang diberi perlakuan perendaman air tawar 21 hari dengan nilai beban tarik putus terendah 1477 N. Sedangkan pada perlakuan perendaman air laut 1 hari memiliki nilai beban tarik putus rata-rata tertinggi sebesar 1733 N dan nilai rata-rata beban tarik putus terendah ialah pada komposit yang diberi perlakuan perendaman air laut 21 hari dengan nilai terendah 1380 N.
Kata Kunci: komposit, serat alam, kulit kelapa, uji tarik.

Abstract 
The use of natural fibers as a binder on composites has been widely used, including palm fiber, gewang leaf fiber, thistle fiber, pineapple fiber, coconut fiber and many other fibers. Technological developments, physical-chemical properties of fiber, and consumer awareness to return to natural materials, make coconut fiber fibers used as raw materials for the industry of carpets, seats and vehicle dashboards, mattresses, pillows and hardboards. Coconut coir fibers combined with resin as a matrix will be able to produce alternatives, one of which is the application of materials that support the use of composites. In this study, an analysis of the effect of immersion time and immersion media on the tensile strength of open hole composites was analyzed by discontinuous coconut shells of polyester matrix. In testing the tensile strength of the matrix and open hole discontinuous composites using the ASTM D5766 standard. From the tensile testing performed on the test specimens, the average test load for each type
of composite is obtained without the immersion composite having the highest drop pull load with an average value of 2013 N, in the composite treated with fresh water immersion 1 day has a load tensile drop with the highest average value of 1777 N, and the  lowest average tensile pull load is on the composite treated with 21 days freshwater immersion with the lowest drop load value of 1477 N. While the treatment of sea water immersion 1 day has a value the highest average drop-out load is 1733 N and the lowest average tensile pull load is in the composite treated with 21 days sea water immersion with the lowest value of 1380 N.
Keywords: composite, natural fiber, skin fiber, strain test.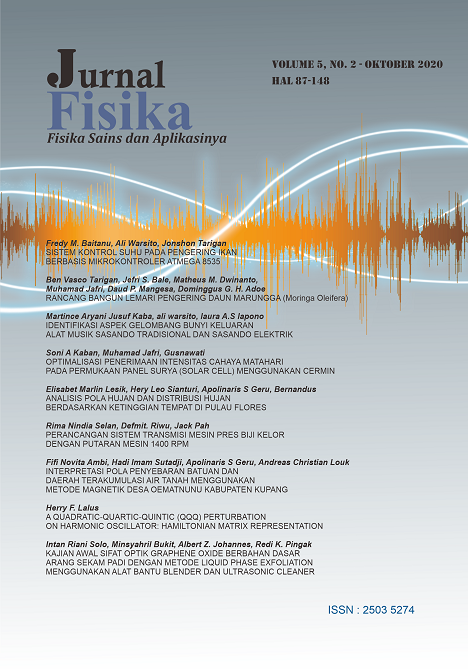 How to Cite
Adoe, D., Riwu, D., & Banani, Y. (2020). PENGARUH WAKTU PERENDAMAN DAN MEDIA PERENDAMAN TERHADAP KEKUATAN TARIK KOMPOSIT OPEN HOLE DISCONTINUOUS KULIT BUAH KELAPA MATRIKS POLYESTER. Jurnal Fisika : Fisika Sains Dan Aplikasinya, 5(2), 163-167. Retrieved from https://ejurnal.undana.ac.id/index.php/FISA/article/view/3541
Copyright (c) 2020 Jurnal Fisika : Fisika Sains dan Aplikasinya
This work is licensed under a Creative Commons Attribution-NonCommercial-ShareAlike 4.0 International License.
Published By

Jl. Adisucipto, Penfui-Kupang, Lasiana, Klp. Lima, Kota Kupang, Nusa Tenggara Timur., Indonesia

This work is licensed under Attribution-NonCommercial-ShareAlike 4.0 International (CC BY-NC-SA 4.0)