KAJIAN SIFAT FISIS BIOPLASTIK PATI JAGUNG DENGAN PENAMBAHAN GRAPHENE OXIDE BERBAHAN DASAR TONGKOL JAGUNG ASAL KABUPATEN KUPANG
Anggi Arni Biha

Universitas Nusa Cendana

Albert Zicko Johannes

Universitas Nusa Cendana

Minsyahril Bukit

Universitas Nusa Cendana

Redi K. Pingak

Universitas Nusa Cendana

Hadi I Sutaji

Universitas Nusa Cendana
Abstract
Bioplastik masih memiliki kekurangan dibandingkan dengan plastik kemasan konvensional. Salah satunya adalah bioplastik tidak sekuat plastik kemasan konvensional. Salah satu cara dalam meningkatkan kekuatan mekanis bioplastik adalah dengan menambahkan pengisi dalam pembuatannya. Graphene oxide (GO) merupakan material pengisi yang mempunyai potensi menambah kekuatan mekanis dari bioplastik. Penelitian ini dilakukan untuk mengetahui pengaruh penambahan larutan GO yang disintesis dari tongkol jagung terhadap perubahan sifat fisis bioplastik berbahan dasar pati jagung. Pengujian bioplastik dilakukan dengan uji kuat tarik, uji daya serap air dan uji biodegrasi. Hasil penelitian menunjukkan bahwa penambahan larutan GO mempengaruhi kekuatan mekanik,  daya serap air dan waktu biodegrasi bioplastik. Yaitu dengan nilai uji kuat tarik sebesar 1,20 MPa, sedangkan daya serap air 40%  dan waktu degradasi sempurna 11 hari.
Kata kunci: Bioplastik; Graphene Oxide; Kuat Tarik, daya serap air, Biodegradasi.
Abstract
Bioplastics still have disadvantages compared to conventional plastic packaging. One of them is that bioplastics are not as strong as conventional plastic packaging. One way to increase the mechanical strength of bioplastics is to add fillers in the manufacturing process. Graphene oxide (GO) is a filler that has the potential to increase the mechanical strength of bioplastics. This study was conducted to determine the effect of adding GO solution synthesized from corn cobs to changes in the physical properties of bioplastics based on corn starch. Bioplastic testing is carried out by tensile strength test, water absorption test and biodegradation test. The results showed that the addition of the GO solution affected the mechanical strength, water absorption capacity and the time of biodegradation of bioplastics. Namely, the tensile strength test value is 1.20 MPa, while the water absorption capacity is 40% and the complete degradation time is 11 days.
Keywords: Bioplastics; Graphene Oxide; Tensile Strength; water absorption capacity; Biodegration.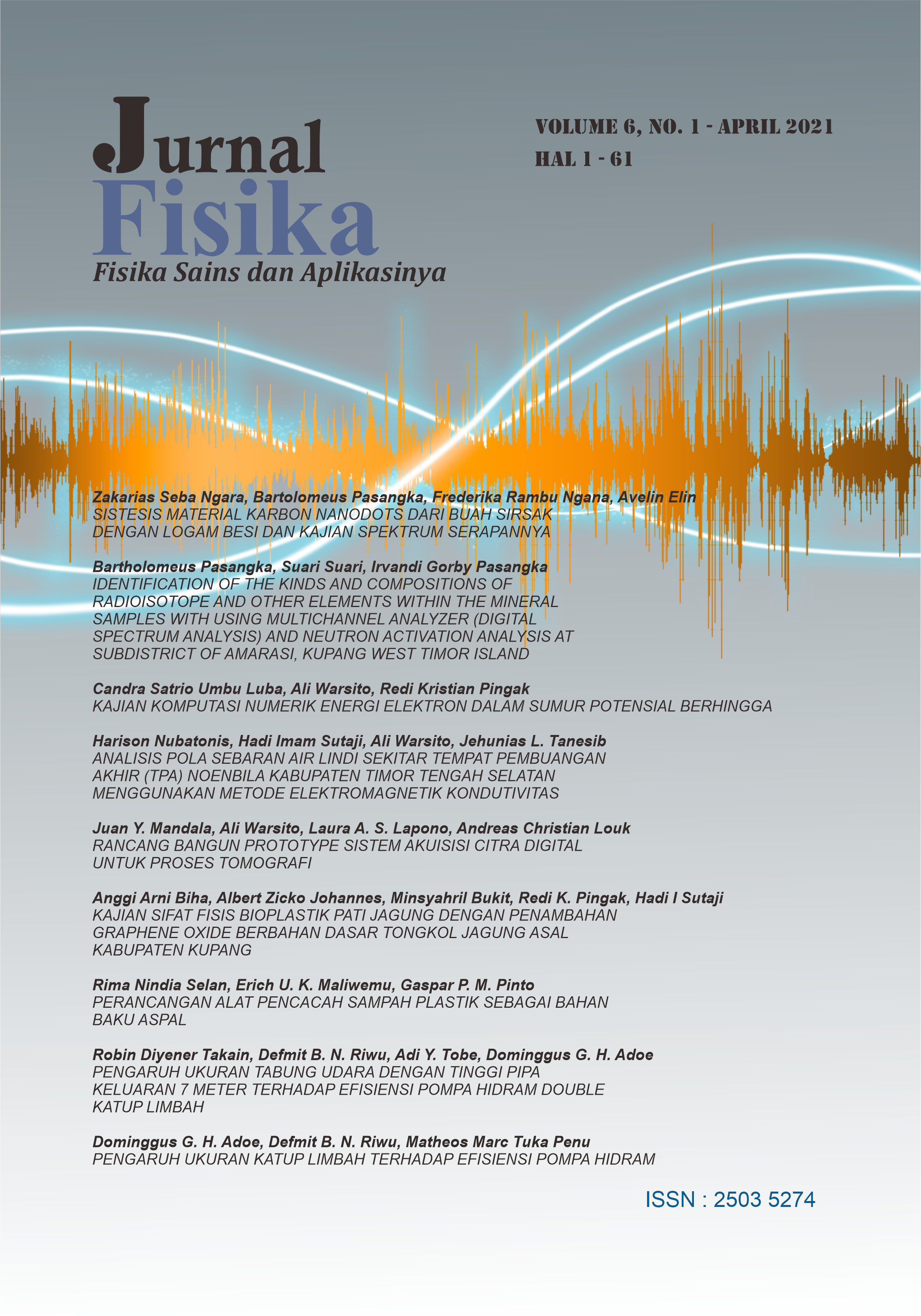 How to Cite
Biha, A., Johannes, A., Bukit, M., Pingak, R., & Sutaji, H. (2021). KAJIAN SIFAT FISIS BIOPLASTIK PATI JAGUNG DENGAN PENAMBAHAN GRAPHENE OXIDE BERBAHAN DASAR TONGKOL JAGUNG ASAL KABUPATEN KUPANG. Jurnal Fisika : Fisika Sains Dan Aplikasinya, 6(1), 44-48. https://doi.org/10.35508/fisa.v6i1.3795
Copyright (c) 2021 Jurnal Fisika : Fisika Sains dan Aplikasinya
This work is licensed under a Creative Commons Attribution-NonCommercial-ShareAlike 4.0 International License.
Published By

Jl. Adisucipto, Penfui-Kupang, Lasiana, Klp. Lima, Kota Kupang, Nusa Tenggara Timur., Indonesia

This work is licensed under Attribution-NonCommercial-ShareAlike 4.0 International (CC BY-NC-SA 4.0)