ANALISIS AKTIVITAS JENIS RADIOISOTOP DALAM SAMPEL AIR SUMUR DI DESA SUAI KECAMATAN MALAKA TENGAH KABUPATEN MALAKA
Veronika Hoar Seran

Universitas Nusa Cendana

Albert Zicko Johannes

Universitas Nusa Cendana

Bartholomeus Pasangka

Universitas Nusa Cendana
Keywords:
Radioisotope, Mass Specific Activity, Radiosctivity Contamination
Abstract
ABSTRAK
Interval nilai aktivitas jenis massa kandungan radioisotop dalam sampel air sumur di Desa Suai Kecamatan Malaka Tengah Kabupaten Malaka adalah 17,360 x s/d 0,1042. Berdasarkan perhitungan cacah per menit sampel laboratorium, hasil yang didapatkan melebihi ambang batas dosis radiasi yang diperbolehkan untuk persyaratan air minum(permenkes no:492/ menkes/ per/ IV/ 2010) tanggal 19 April 2010 yaitu: β= 2,7 xµCi/gram dan α = 0,27 xµCi/gram yang berasal dari radiasi Beta dan Alpha. Hasil menunjukkan adanya kontaminasi alpha tinggidan kontaminasi beta sedang  di titiksumur 15.2 dengan nilai 17,360 x, kontaminasi alpha sedang dan kontaminasi beta rendah  di titik sumur 1.2,2 - 14, 15.1, 17 - 19, 20.2  dengan nilai 1,31s/d 8,82 serta kontaminasi alpha rendah dan kontaminasi beta rendah di titik sumur  1.1, 16, 20.1 dengan nilai 0,14 s/d 9,96 pada lokasi penelitian tersebut.
Kata kunci :Radioisotop, AktivitasJenis Massa, Kontaminasi radioaktivitas
ABSTRACT
The interval value of radioisotope mass specific activity in well water at Suai village the Middle Malaka Subdistric,Malaka Regency, was 17,360 x  to 0,1042.Based on the counts per minute calculation of laboratory samples,the results obtained exceeds water threshold requirementallowed (permenkes no:492/menkes/per/IV/19April 2010), that is: β= 2,7 xµCi/gram and α = 0,27 xµCi/gram which from Beta and Alpha radiation.The results show a high alphacontaminationand medium Beta contamination at sample point 15.2,with value 17,360 am , the medium alpha contamination and low Beta contamination at samples point 1.2,2-14,15.1,17-19,20.2 with value 1,31s/d 8,82 and also the low alpha contaminationand lowbeta contamination at samples point  1.1, 16, 20.1 with value 0,14to 9,96 for the research location.
Keywords:Radioisotope,Mass Specific Activity, Radiosctivity Contamination.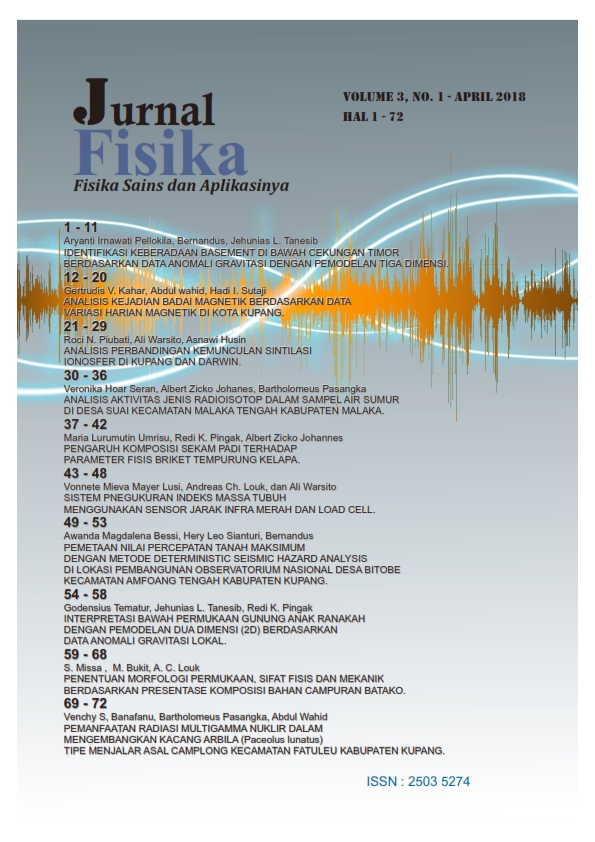 How to Cite
Seran, V., Johannes, A., & Pasangka, B. (2018). ANALISIS AKTIVITAS JENIS RADIOISOTOP DALAM SAMPEL AIR SUMUR DI DESA SUAI KECAMATAN MALAKA TENGAH KABUPATEN MALAKA. Jurnal Fisika : Fisika Sains Dan Aplikasinya, 3(1), 30-36. https://doi.org/10.35508/fisa.v3i1.591
Published By

Jl. Adisucipto, Penfui-Kupang, Lasiana, Klp. Lima, Kota Kupang, Nusa Tenggara Timur., Indonesia

This work is licensed under Attribution-NonCommercial-ShareAlike 4.0 International (CC BY-NC-SA 4.0)