PEMANFAATAN RADIASI MULTIGAMMA NUKLIR DALAM MENGEMBANGKAN KACANG ARBILA (Paceolus lunatus) TIPE MENJALAR ASAL CAMPLONG KECAMATAN FATULEU KABUPATEN KUPANG
Venchy S. Banafanu

Universitas Nusa Cendana

Abdul Wahid

Universitas Nusa Cendana

Bartholomeus Pasangka

Universitas Nusa Cendana
Keywords:
local Arbilabean, multigamma radiation
Abstract
ABSTRAK
Kacang Arbila (phaseolus lunatus) merupakan salah satu leguminosa asli Nusa Tenggara Timur (NTT)' khususnya di Kecamatan Fatuleu yang memiliki peranan yang cukup penting dalam pemenuhan kebutuhan masyarakat' yang memliki kandungan gizi yang cukup tinggi dan juga sebagai tambahan pendapatan bagi masyarakat. Tingkat produktivitas Kacang Arbila dipengaruhi oleh banyak faktor antara lain: penggunaan varietas unggul' kesuburan tanah' serta teknik budidayanya. Faktor – faktor ini yang mendorong pertumbuhan Kacang Arbila secara optimal' sehingga diperoleh hasil yang maksimal. Penelitian ini bertujuan untuk mengetahui dosis terbaik teknik radiasi multigamma yang terdiri dari 5 unsur: Cd-109' Co-60' Cs-137' Mn-54' dan Sn-113' dalam pengembangan tanaman kacang Arbila lokal tipe menjalar di daerah Camplong' dan mengetahui karakteristik fisis unggul hasil radiasi multigamma. Metode yang digunakan dalam penelitian ini yaitu radiasi multigamma meliputi 8 perlakuan yaitu tanpa radiasi' 1000 radiasi' 1500 radiasi' 2000 radiasi' 2500 radiasi' 3000 radiasi' 3500 radiasi' dan 4000 radiasi. Hasil penelitian ini menunjukan bahwa penggunaan dosis radiasi terbaik untuk tanaman Kacang Arbila lokal adalah 4000 rads. Karakter fisis unggul yang diperoleh meliputi tumbuh lebih cepat' tinggi tanaman 2'65cm' umur tanaman lebih singkat73 hst' jumlah produksi lebih besar 39'7 gram dan kandungan protein 33'43%.
Kata kunci :  Kacang Arbila dan radiasi multigamma.
ABSTRACT
protein content is 33' Arbilabean (phaseolus lunatus) is one of East Nusa Tenggara (NTT) original leguminosa' specially in Fatuleu subdistrick which has important owning role to fulfill human need' which has high-grade of owning content of nutriant and also supporting human income. Productivity level of Arbilabean was influenced by many factors' for exampls : the usage of pre-eminent varieties' fertilities of land and also conservancy tecnique. Those factors were push forward optimal growth of Arbilabean ' so that it was obtained maximal crops.  The aim of research is to know the best dose of multigamma radiation tecnique wich consists of 5 elemens : Cd-109' Co-60' Cs-137' Mn-54' and Sn-113 for development local Arbilabean on creep type in Camplong area and to know pre-aminent physical characteristic by multigamma radition. The method used in this research was multigamma radiation' coverred 8 treatments i-e : without rads' 1000 rads' 1500 rads' 2000 rads' 2500 rads' 3000 rads' 3500 rads'and  4000 rads. The result of this research was indicated that using the best dose of radiation for the crops of local Abilabean is 4000 rads. Physical characteristic pre-eminent wich obtained cover to grow quckly was high 2'65 cm' crops age is briefer 73 day after cultivation (dac)'high of total production is 39'7gram and 43%.
Keywords: local Arbilabean and multigamma radiation.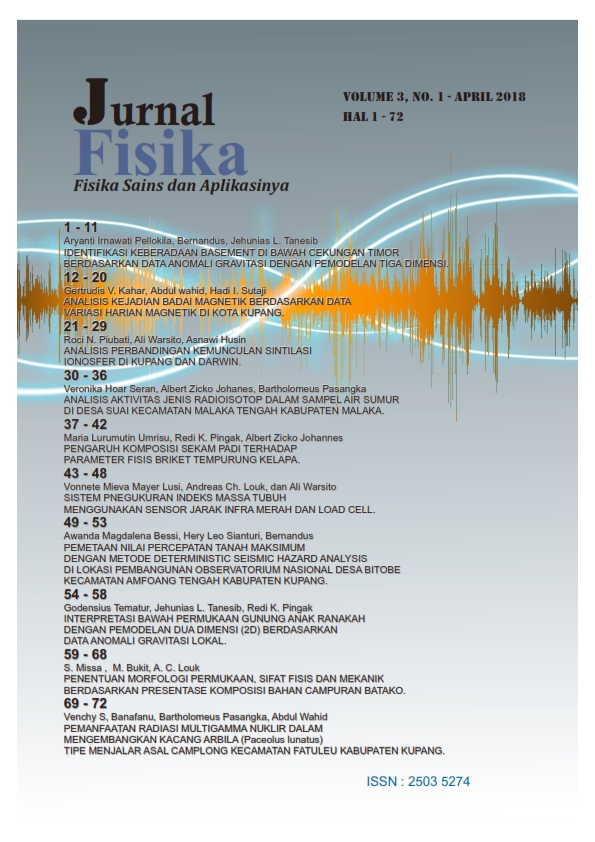 How to Cite
Banafanu, V., Wahid, A., & Pasangka, B. (2018). PEMANFAATAN RADIASI MULTIGAMMA NUKLIR DALAM MENGEMBANGKAN KACANG ARBILA (Paceolus lunatus) TIPE MENJALAR ASAL CAMPLONG KECAMATAN FATULEU KABUPATEN KUPANG. Jurnal Fisika : Fisika Sains Dan Aplikasinya, 3(1), 69-72. https://doi.org/10.35508/fisa.v3i1.597
Published By

Jl. Adisucipto, Penfui-Kupang, Lasiana, Klp. Lima, Kota Kupang, Nusa Tenggara Timur., Indonesia

This work is licensed under Attribution-NonCommercial-ShareAlike 4.0 International (CC BY-NC-SA 4.0)