PEMETAAN DAERAH RAWAN BANJIR DENGAN PENGINDERAAN JAUH DAN SISTEM INFORMASI GEOGRAFIS DI KECAMATAN KUPANG TIMUR KABUPATEN KUPANG PROVINSI NUSA TENGGARA TIMUR
Nuryanti Nuryanti

Universitas Nusa Cendana

Jehunias L. Tanesib

Universitas Nusa Cendana

Ali Warsito

Universitas Nusa Cendana
Keywords:
Mapping, Remote Sensing, Geographic Information Systems (GIS)
Abstract
Abstrak
Telah dilakukan pemetaan daerah rawan banjir di Kecamatan Kupang Timur Kabupaten Kupang Provinsi Nusa Tenggara Timur dengan aplikasi penginderaan jauh dan sistem informasi geografis. Metode penelitian berupa pembuatan peta curah hujan, pembuatan peta tutupan lahan dan pembuatan peta kelas lereng. Hasil penelitian menunjukan bahwa tingkat kerawanan banjir di kecamatan kupang timur kabupaten kupang dibagi dalam 3 kelas yaitu kelas tidak rawan dengn luas wilayah 8284,32 Ha dengan persentase yaitu 50.70 %, kelas rawan dengan luas wilayah 3368,61 Ha dengan presentase yaitu 20.62 % dan kelas sangat rawan dengan luas wilayah 4686,93 Ha dengan presentase yaitu 28.68 %.
Kata kunci: Pemetaan, Penginderaan Jauh, Sistem Informasi Geografis (SIG)
Abstract
[Mapping of flood - prone areas in the district of east Kupang, Regency of Kupang East Nusa Tenggara Province using application of remote sensing and geographic information system] has been done. The research method such as making a rainfall map, a land cover Map, and making a slope class Map. The results of research showed that flood vulnerability level in east Kupang district became three vulnerability classes: Class with an area not prone to flooding 8284.32 Ha (50.70 %), class with an area rather prone to flooding 3368.61 Ha (20.62 %) and class with an area very prone to flooding 72.912,96 Ha (28.68 %)
Keywords: Mapping, Remote Sensing, Geographic Information Systems (GIS)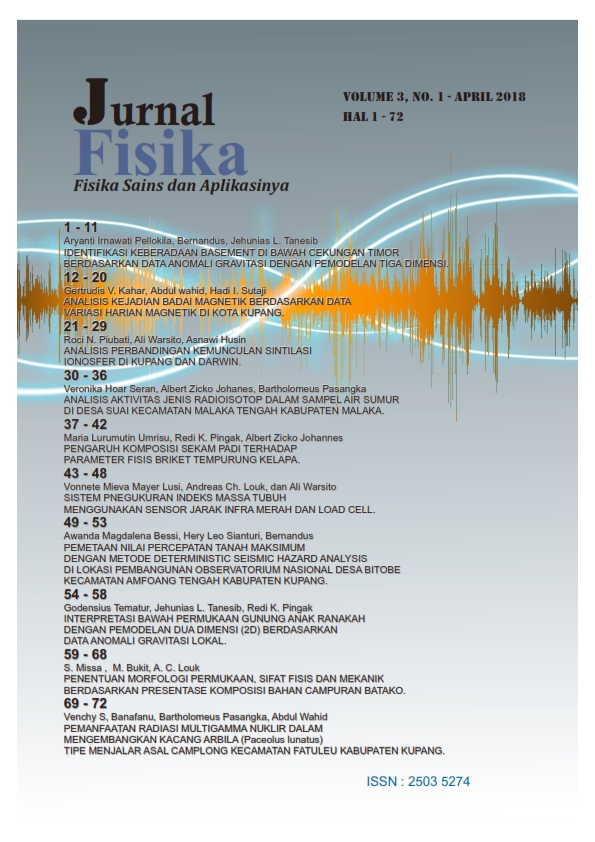 How to Cite
Nuryanti, N., Tanesib, J., & Warsito, A. (2018). PEMETAAN DAERAH RAWAN BANJIR DENGAN PENGINDERAAN JAUH DAN SISTEM INFORMASI GEOGRAFIS DI KECAMATAN KUPANG TIMUR KABUPATEN KUPANG PROVINSI NUSA TENGGARA TIMUR. Jurnal Fisika : Fisika Sains Dan Aplikasinya, 3(1), 73-79. https://doi.org/10.35508/fisa.v3i1.604
Copyright (c) 2018 Jurnal Fisika : Fisika Sains dan Aplikasinya
This work is licensed under a Creative Commons Attribution-NonCommercial-ShareAlike 4.0 International License.
Published By

Jl. Adisucipto, Penfui-Kupang, Lasiana, Klp. Lima, Kota Kupang, Nusa Tenggara Timur., Indonesia

This work is licensed under Attribution-NonCommercial-ShareAlike 4.0 International (CC BY-NC-SA 4.0)