SISTEM KONTROL SUHU PADA PENGERING IKAN BERBASIS MIKROKONTROLER ATMEGA 8535
Fredy M. Baitanu

Universitas Nusa Cendana

Ali Warsito

Universitas Nusa Cendana

Jonshon Tarigan

Universitas Nusa Cendana
Abstract
Abstrak
Telah dirancang sebuah sistem kontrol secara loop tertutup pada unit pengeringan ikan menggunakan sensor LM35, mikrokontroler ATmega8535, seven segment serta beberapa komponen elektronika yang tesedia dipasaran. Sistem dikendalikan oleh mikrokontroler ATmega8535 untuk pengambilan data suhu menggunakan sensor LM35 dan menampilkan data suhu melalui seven segment, serta mengontrol pemanas melalui aktuator. Hasil pengukuran nilai suhu akan dibandingkan dengan nilai setpoint, sehingga diperoleh selisih nilai yang akan digunakan sebagai indikator untuk melakukan proses pengontrolan. Hasil pengujian menunjukkan bahwa pengontrolan bekerja dengan baik dalam merespon setiap perubahan suhu udara. Ketika suhu di bawah setpoint 53°C maka aktuator akan berada dalam kondisi on sehingga pemanas aktif, sebaliknya jika suhu berada di atas setpoint 53°C maka aktuator akan berada dalam kondisi off untuk mematikan heater. Hasil pengeringan selama 4 jam menunjukkan bahwa pengeringan ikan pada massabasah ikan 200 gram, yaitu pada keadaan ventilasi atas kotak pengeringan terbukaakan menghasilkan massa kering90 gram. Pengujian selama 4 jam pada keadaan ventilasi kotak pengeringan tertutup akan menghasilkan massa kering 130 gram. Selain itu, pengeringan secara tradisional selama 12 jam dengan massa basah ikan 200-gram akan menghasilkan massa kering 90 gram.
Kata Kunci: Suhu, pengeringan ikan; mikrokontroler Atmega8535; seven segment; aktuator

Abstract
A closed-loop control system of temperatures in fish drying unit using LM35 sensor, ATmega8535 microcontroller, seven segment and also some of the available electronic market components has been designed. The system is controlled by a microcontroller ATmega8535 for temperature data collection using LM35 sensor and temperature data is displayed on seven segments, as well as heating control via actuators. The measurement results will be compared with the value of the temperature set point value in order to obtain the difference in value to be used as an indicator for process control. The results show that the control works well in response to any changes in air temperature. If the setpoint temperature below 53°C, the actuator will in on condition that the heating is on, otherwise if the temperature is above 53°C setpoint then the actuator will on condition to turn the heater off. Drying for 4 hours results show that the drying fish on the fish wet mass of 200 grams, which is the state of the top vents open drying box will produce a dry mass of 90 grams. Testing for 4 hours in a drying box vents closed state will produce 130 grams of dry mass. In addition, traditional drying for 12 hours with 200 grams of fish wet mass will produce 90 grams of dry mass.
Keywords: Temperature; drying fish; ATmega8535 microcontroller; seven segments; actuators.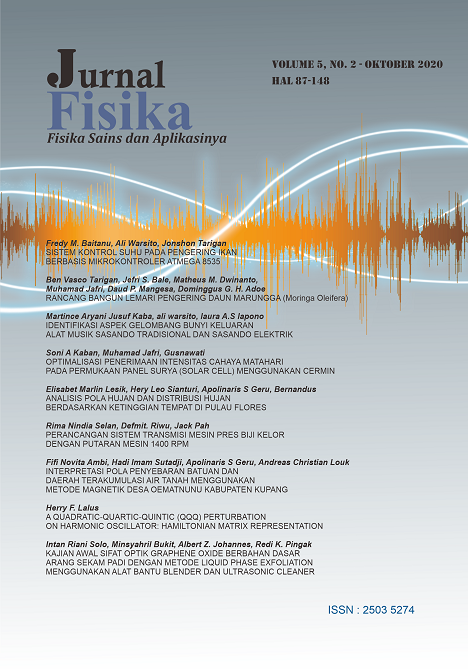 How to Cite
Baitanu, F., Warsito, A., & Tarigan, J. (2020). SISTEM KONTROL SUHU PADA PENGERING IKAN BERBASIS MIKROKONTROLER ATMEGA 8535. Jurnal Fisika : Fisika Sains Dan Aplikasinya, 5(2), 87-95. https://doi.org/10.35508/fisa.v5i2.903
Copyright (c) 2020 Jurnal Fisika : Fisika Sains dan Aplikasinya
This work is licensed under a Creative Commons Attribution-NonCommercial-ShareAlike 4.0 International License.
Published By

Jl. Adisucipto, Penfui-Kupang, Lasiana, Klp. Lima, Kota Kupang, Nusa Tenggara Timur., Indonesia

This work is licensed under Attribution-NonCommercial-ShareAlike 4.0 International (CC BY-NC-SA 4.0)