UPAYA PENINGKATAN PERILAKU KESEHATAN LINGKUNGAN DI DESA OEMASI MELALUI PROGRAM KKN-PPM
Afrona E. Lelan Takaeb

Universitas Nusa Cendana

Ruth Rosina Riwu

Universitas Nusa Cendana

Petrus Romeo Romeo

Universitas Nusa Cendana
Keywords:
Health Environment, Behavior, KKN-PPM, Waste, Waste Management, Kesehatan Lingkungan, Perilaku, Sampah, Pengolahan Sampah
Abstract
Abstract
This paper describes some efforts to increase active participation of community in Oemasi Village to maintain a healthy environment for next generation. Through KKN-Program, the community was educated as to kinds of rubbish and their impact on community's health as well as waste management. This program also encouraged community's awareness to reforest their environment for the sake of water resources preservation and of natural healthy environment. Method applied were lecturer and demonstration using some health promotion medias such as leaflet, poster and booklet.  It is important for community leader to keep motivating the community awareness in regarding health environment behavior.
Abstrak
Artikel ini menggambarkan upaya untuk meningkatkan partisipasi aktif dari masyarakat Desa Oemasi dalam memelihara kesehatan lingkungan sebagai warisan untuk generasi berikutnya. Melalui program KKN-PPM, masyarakat diajarkan  tentang bahaya sampah, dan tentang pengolahan sampah. Melalui program ini juga, masyarakat dimotivasi untuk melakukan penghijauan terutama di wilayah sekitar embung sebagai upaya untuk menjaga kelestararian sumber mata air dan keindahan lingkungan. Peran pemimpin sangat penting untuk terus memberikan motivasi kepada masyarakat terkait dengan perilaku pemeliharaan kesehatan lingkungan.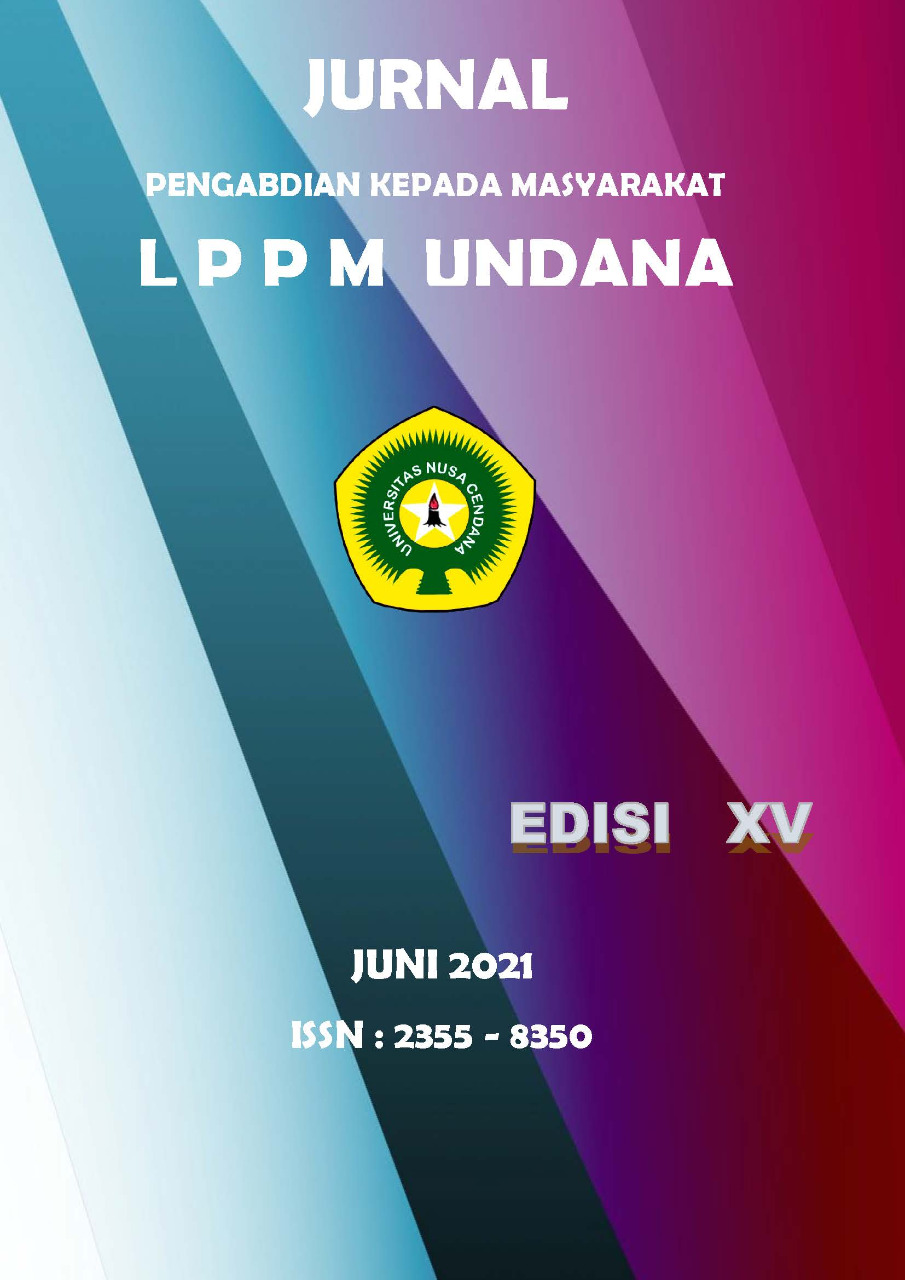 How to Cite
Takaeb, A., Riwu, R., & Romeo, P. R. (2021). UPAYA PENINGKATAN PERILAKU KESEHATAN LINGKUNGAN DI DESA OEMASI MELALUI PROGRAM KKN-PPM. Jurnal Pengabdian Kepada Masyarakat Undana, 15(1), 35-40. Retrieved from https://ejurnal.undana.ac.id/index.php/jlppm/article/view/4884