PENGAMAN KENDARAAN BERMOTOR JARAK JAUH BERBASIS GSM DAN MIKROKONTROLER
Nanang D Prihanto

Undana

Samy Y Doo

Undana

Don EDG Pollo

Undana
Keywords:
Mikrokontroler, sms, gsm shield, modul gps, ic 4017
Abstract
ABSTRAK
Sistem pengaman kendaraan bermotor bawaan pabrikan seperti kunci stir telah banyak digunakan. Akan tetapi pencurian kendaraan bermotor masih terjadi karena kunci stir dapat dilumpuhkan dengan kunci T. Menurut Badan Pusat Statistik (BPS) terjadi sekitar 35.226 kasus pencurian kendaraan bermotor di tahun 2017 dan 38.741 kasus di tahun 2018. Dari data tersebut menunjukkan bahwa setiap tahun angka pencurian semakin meningkat. Salah satu penyebab meningkatnya pencurian adalah satu-satunya pengaman motor hanya kunci stir tersebut. Selain itu sistem tersebut tidak dilengkapi pengaman yang dapat memantau posisi kendaraan. Oleh karena itu pada penelitian ini telah dibuat sistem pengaman kendaraan bermotor berbasis GSM dan mikrokontroler. Alat tersebut dapat mengaktifkan dan menonaktifkan mesin kendaraan dengan cara memutus arus ke koil, serta dapat mengaktifkan dan menonaktifkan alarm dari jarak jauh. Keunggulan tambahan dari alat ini adalah terdapat fitur yang dapat memberitahukan posisi kendaraan dalam bentuk koordinat yang dapat diakses menggunakan aplikasi Googlemaps yang terdapat di smartphone.
Penelitian ini menyajikan rancang bangun sistem pengaman kendaraan bermotor berbasis GSM dan mikrokontroler. Hardware sistem terdiri dari lima komponen alat utama yaitu mikrokontroler Arduino, GSM Shield, Modul GPS, Driver Relay, IC4017. Software pemrograman menggunakan Arduino IDE versi 1.8.5, dimana program dirancang untuk menonaktifkan dan mengaktifkan kendaraan maupun alarm serta mengirimkan koordinat melalui perintah SMS (Short Message Service).
Kata kunci : Mikrokontroler, SMS, GSM shield, Modul GPS, IC 4017
References
[1]. https://www.arduino.cc/en/Main/ArduinoBoardUnoSMD. 8 Mei 2017
[2]. Kadir, A.,2014."Buku Pintar Pemrograman Arduino".Yogyakarta: MediaKom.
[3]. NEO-6_DataSheet_GPS.G6-HW-09005.pdf. Di unduh dari www.u-blox.com. 25 Februari 2017.
[4]. Williams, B.K. and Sawyer, S.C., 2011. "Using Information Technology: A Practical Introduction to Computers & Communications. (9th edition)". New York: MCGraw-Hill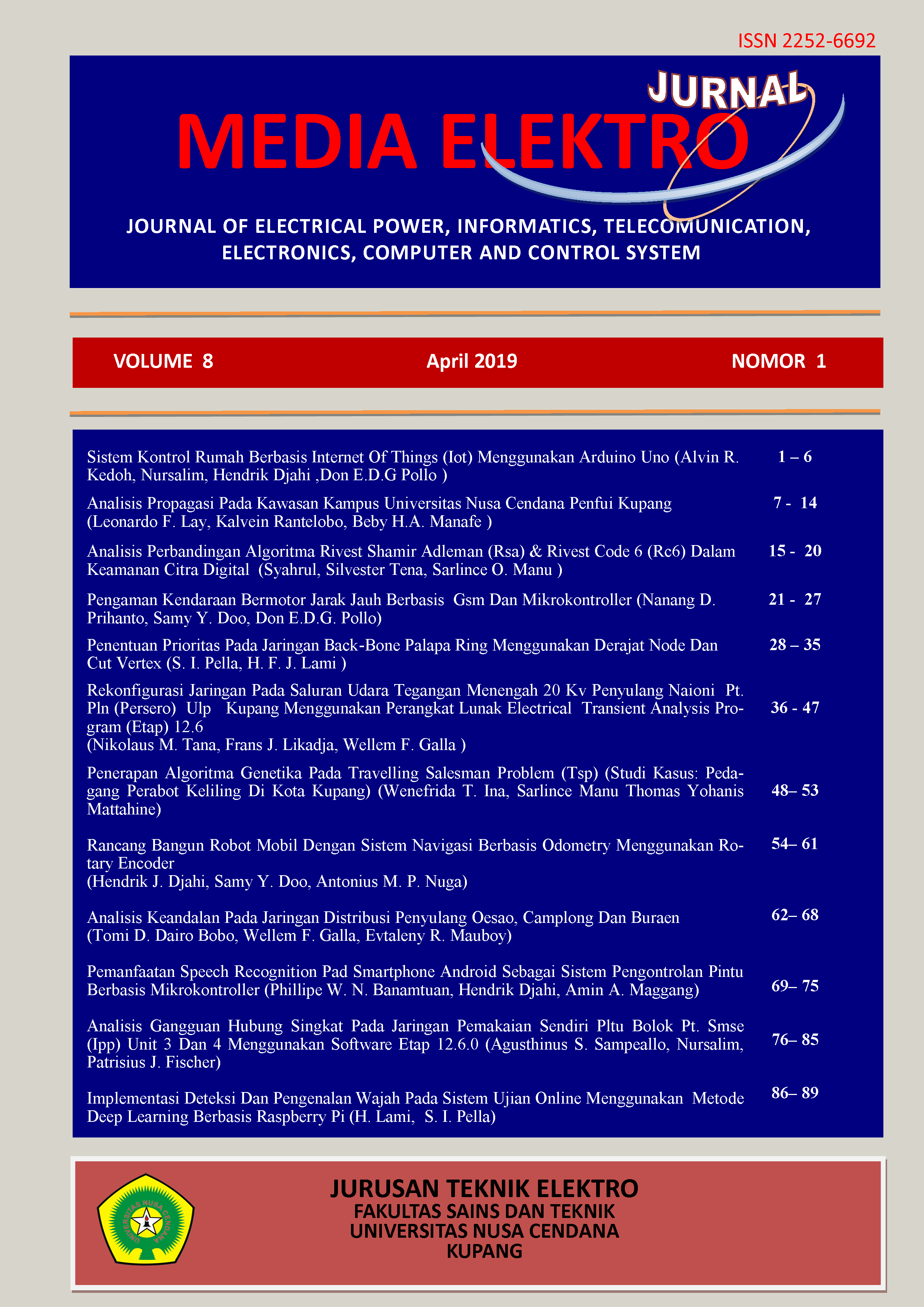 How to Cite
Prihanto, N., Doo, S., & Pollo, D. (2019). PENGAMAN KENDARAAN BERMOTOR JARAK JAUH BERBASIS GSM DAN MIKROKONTROLER. Jurnal Media Elektro, 8(1), 21-27. https://doi.org/10.35508/jme.v8i1.1273
Copyright (c) 2019 Media Elektro
This work is licensed under a Creative Commons Attribution-NonCommercial-NoDerivatives 4.0 International License.