PEMANFAATAN SPEECH RECOGNITION PAD SMARTPHONE ANDROID SEBAGAI SISTEM PENGONTROLAN PINTU BERBASIS MIKROKONTROLLER
Phillipe W. N. Banamtuan

Hendrik Djahi

Amin Ajaib Maggang

Universitas Nusa Cendana
Keywords:
Keywords: Speech recognition, android, mikrokontroler, people with disabilities
Abstract
Perkembangan pada sistem kontrol terus mengalami inovasi seiring dengan perkembangan teknologi. Speech recognition pada smartphone merupakan suatu teknologi yang dimanfaatkan sistem kontrol untuk memudahkan aktivitas manusia. Penelitian ini telah berhasil memanfaatkan speech recognition yang terdapat Smartphone Android untuk menerima perintah suara sebagai input kepada arduino uno. Arduino uno kemudian berfungsi sebagai pusat kendali dari sistem kerja alat pengendali pintu. Alat ini menggunakan bluetooth sebagai media komunikasi data. Selain itu, relay digunakan sebagai saklar untuk menggerakan solenoid doorlock untuk melakukan penguncian pintu. Agar pintu dapat bergerak, buka dan tutup, sebuah motor servo juga digunakan pada peneilitian ini. Aplikasi ini dapat digunakan secara online maupun offline. Pengujian jarak dan intensitas suara terhadap alat yang dibuat juga telah dilakukan. Jarak efektif untuk mengontrol pintu adalah 1 sampai 6 meter tanpa halangan. Jika terdapat halangan, jarak efektifnya adalah 1 sampai 3 meter. Sedangkan jarak antara pengguna dan smartphone adalah 30cm. Selain itu, Hasil untuk intensitas suara yang efektif untuk mengontrol pintu adalah 40 sampai 80 dB dengan kecepatan pengucapan 2 sampai 4 detik.
Keywords: Speech recognition, android, mikrokontroler, people with disabilities 
Downloads
Download data is not yet available.
References
[1] Ghose, Debasish. 2012. Navigation, Guidance and Control Chapter 8. Indian Institute of Science. Bangalore, India
[2] Fadli, Imam. 2016. Kendali pintu air otomatis berbasis speech recognition menggunakan metode MFCC dan jaringan syaraf tiruan. Unversitas Budi Luhur Jakarta.
[3] Rumagit, F.D. J.O, Wuwung. S.R.U.A, Sompie. B.S, Narasiang. Perancangan Sistem Switching 16 Lampu Secara Nirkabel Menggunakan Remote Control. Universitas Sam Ratulangi, Manado
[4] Rusdi, Muhammad. 2016. Sistem Kendali Peralatan Elektronik Melalui Media Bluetooth Menggunakan Voice Recognition. Politeknik Negeri Medan.
[5] Ismail Rafly, Rizky. 2017. Pemanfaatan Sistem Android Sebagai Pengendali Lampu Ruangan Berbasis Mikrokontroler Arduino. Universitas Nusa Cendana Kupang
[6] Katsuhiko, Ogata. 1997. Modern Control Engineering. New Jersy: Prentice Hall
[7] Sameerchand, Pudaruth. Hermand, Ramdolin. Amar, Bissoonee, 2010. An Assessment Of The Performance Of Bluetooth As A Broadcasting Channel. Proceedings of the World Congress on Engineering. London, U.K
[8] Core. 2001. Specification of the Bluetooth System Volume 1.
[9] Amelya, Ambar. 2014. Rancang Bamgum Robot Pendeteksi Kebocoran Gas Dengan Menggunakan Modul XBEE Berbasis Mikrokontroller Atmega32U4. Politeknik Negeri Sriwijaya, Palembang
[10] Kristin, Pertiwi. 2016. Perancangan Alat Pembuka Pintu Via Sms Berbasis Mikrokontroler Atmega 328. Politeknik Negeri Sriwijaya, Palembang
[11] Aliferi, Chryssa. 2016. Android Programming Cookbook. Exelixis Media P.C 12. Paul, Abhisek. Satyabrata, Chayani. 2011. Speech Recognition in Hindi. National Institute of Technology Rourkela. Orissa, India

[12] Reddy, Raghavendhar. E. Mahender. 2013. Speech to Text using Android Platform. Aurora's Technological and Research Institute. Parvathapur, Uppal, Hyderabad, India.
[13] Apriansyah, Ari. Ilhamsyah. Tedy Rismawan.
2016. Prototype Kunci Pintu Otomatis Pada Pintu Berdasarkan Suara Pengguna
Menggunakan Metode KNN (K-Nearest Neighbor). Universitas Tanjungpura. Pontianak
[14] Am, Rois. Kemalasari. Bambang, Sumantri. Ardik Wijayanto. 2010. Pengaturan Posisi Motor Servo DC Dengan Metode Fuzzy Logic.
Institut Teknologi Sepuluh November. Surabaya, Indonesia.
[15] Damayanti, Rika. 2016. Aplikasi Motor Servo Pada Prototipe Pintu Rumah Otomatis Menggunakan Lcd Thin Film Transistor (Tft) Touchscreen Berbasis Arduino Mega2560. Politeknik Negeri Sriwijaya Palembang
[16] Prambodo, Rachmat. 2017. Kendali Perangkat Elektronik Menggunakan Komunikasi
Bluetooth Berbasis Android. STIKOM Surabaya.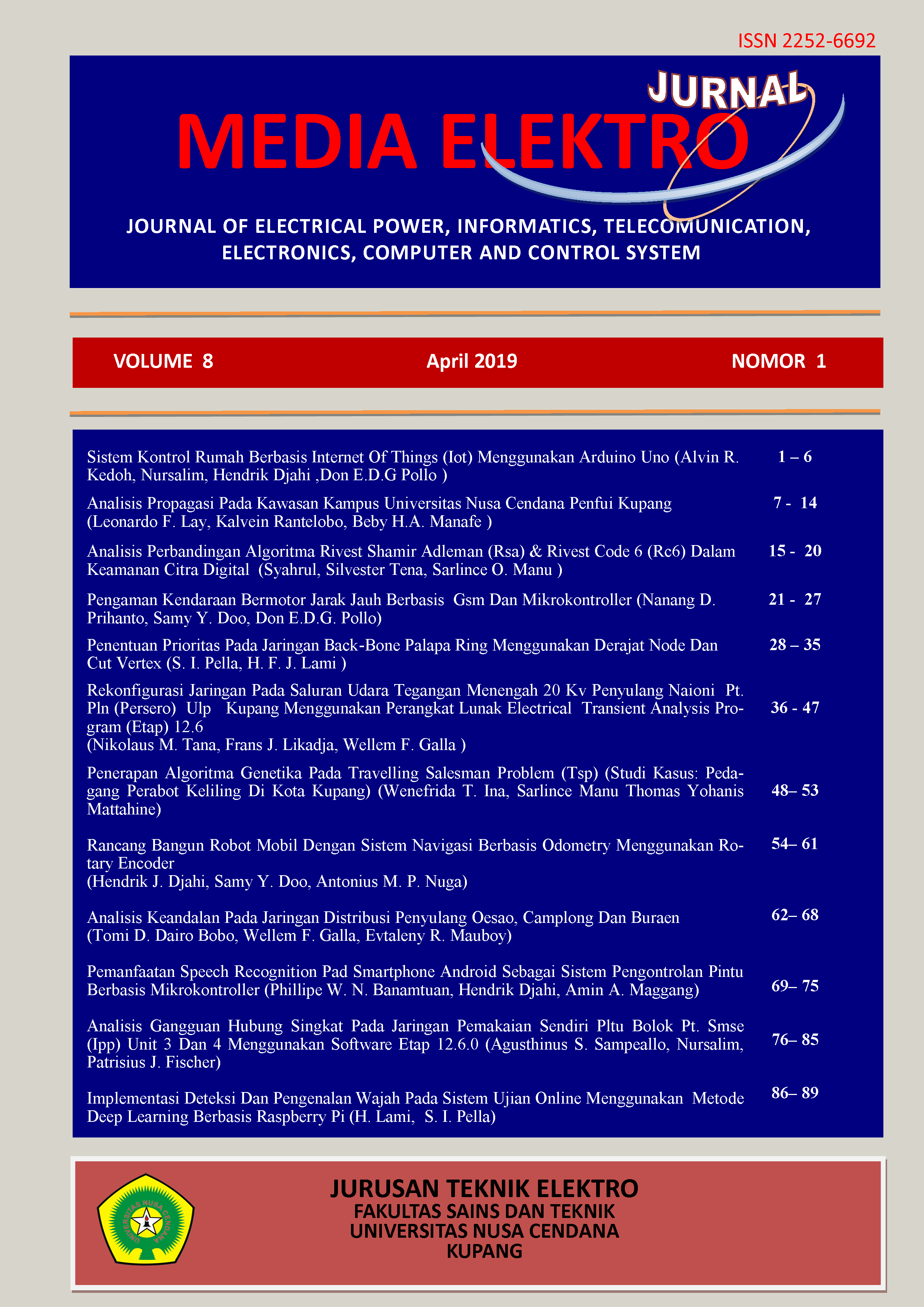 How to Cite
Banamtuan, P., Djahi, H., & Maggang, A. (2019). PEMANFAATAN SPEECH RECOGNITION PAD SMARTPHONE ANDROID SEBAGAI SISTEM PENGONTROLAN PINTU BERBASIS MIKROKONTROLLER. Media Elektro, 8(1), 72-78. Retrieved from https://ejurnal.undana.ac.id/jme/article/view/1421
Copyright (c) 2019 Media Elektro
This work is licensed under a Creative Commons Attribution-NonCommercial-NoDerivatives 4.0 International License.